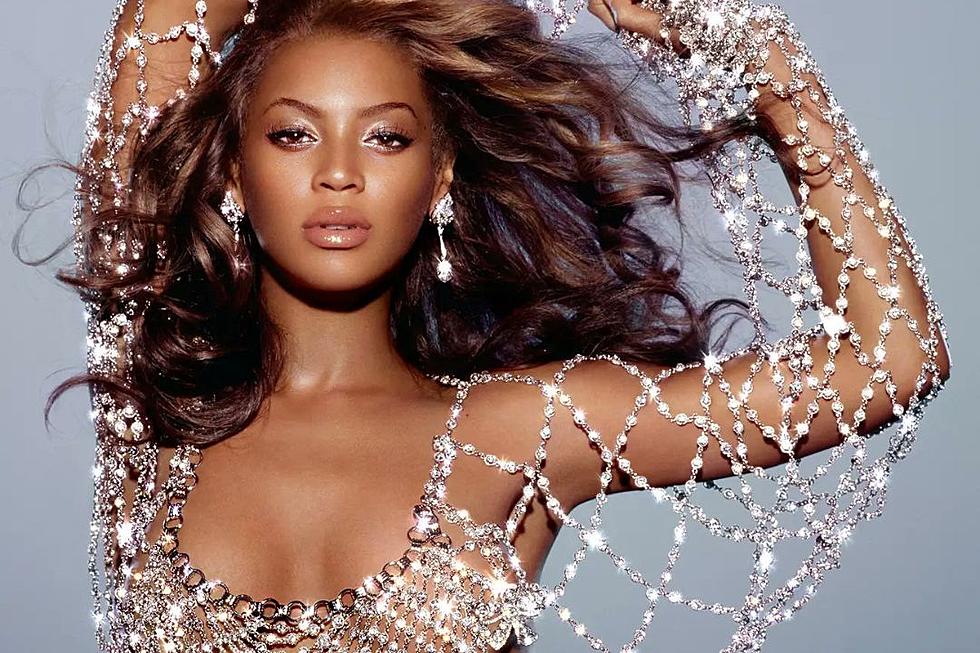 Beyonce's 'Dangerously in Love' Photographer Took Off His Jeans so Singer Could Wear Them for Debut Album Cover
Columbia Records
Beyoncé's 2003 debut solo album, Dangerously in Love, is iconic for its hit music, such as "Crazy in Love," but it's also well-known for its cover art, which features Queen Bey in a diamond-encrusted top and jeans.
For the album's 20th anniversary on June 24, Beyoncé's Dangerously in Love photographer, Markus Klinko, revealed some behind-the-scenes facts about the making of the album art.
According to Klinko, the sparkly top was all Beyoncé's idea, as she was inspired by one of Klinko's images of Laetitia Casta, which portrayed the model on a glittering spider web.
"She said she really loved that image and if we could do something like that, just smaller, on her," Klinko told Insider.
He revealed that Tina Knowles, Beyoncé's mom and stylist at the time, got the ball rolling by finding the perfect top to bring her daughter's vision to life.
"She brought this diamond top, and I immediately recognized it as an opportunity. I brought it up to Beyoncé, and I said, 'Well, here you go. That's what we should do,'" Klinko explained.
READ MORE: Beyonce Wardrobe Malfunction Saved by Tour Backup Dancer
However, Beyoncé wanted more contrast in the outfit than her mom's idea, which was to pair the glitzy top with a long skirt, something Bey thought would look "very prom or red carpet."
"Beyoncé said, 'Well, we don't have any denim. We didn't bring any.' I said, 'You might fit my own jeans that I'm wearing.' She said, 'OK, let's try.' So we did," Klinko shared.
"She worked a piece — that's not easy to do. She found the exact right movement. That wasn't my idea to put the arms up. That was her idea, and I don't even know if it was an idea. It was her instinct. And I knew: 'That's the cover,'" he added.
See Beyoncé's Dangerously in Love album cover, below:
Klinko also revealed that even to this day, people still bombard him with requests to buy the pants, but he has no plans to sell them.
"It was very cute because Beyoncé took them with her after the shoot. And then on our next shoot for Pepsi, she brought them back, and she had them wrapped and dry cleaned. She gave them back to me, and she said, 'Thank you so much, and please don't sell them on eBay,'" he shared.
Barrier-Breaking Women in Music