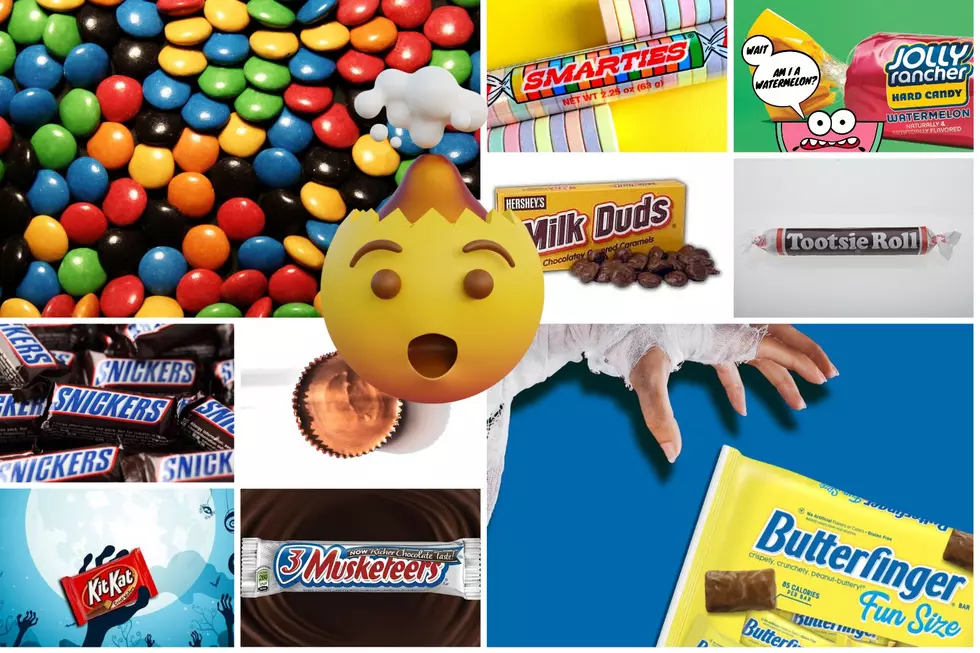 10 Fascinating Candy Facts To Wow Illinois Trick-Or-Treaters With This Halloween
Jolly Rancher, Butterfinger, Smarties, Tootsie Roll, 3 Musketeers, Reese's, Milk Duds via Facebook, Canva
Halloween is just a few days away, and if you really want to blow your trick-or-treaters' minds, tell them these 10 things about their favorite candies.
Well-Known Facts About Candy
We all have our favorite candies to eat, and I always make a point to buy MY favorite kinds to hand out to trick-or-treaters just in case there is any leftover. Here are a few things I know when it comes to Halloween candy:
The more chocolate the better.
No kid wants those nasty peanut butter monstrosities that are wrapped in orange or black paper.
Something sour/sweet like Skittles, Sour Patch Kids, or suckers must always be included with the chocolate option.
Dubble Bubbles don't last long and quickly turn into rocks in your candy bag.
Fascinating Facts About Popular Halloween Candies
Seeing how I consider myself a well-versed candy connoisseur, I was pretty fascinated by this Ranker article that listed some unknown facts about everyone's favorite candy brands.
Here are the ten that I found most interesting:
1. Milk Duds
When Milk Duds were first created back in 1928 by a Chicago company, they were supposed to be ROUND pieces of caramel coated with milk chocolate, but they came out too flat and were considered "duds"...and the name stuck. (just like the "duds" do to your teeth).
2. 3 Musketeers
When the first 3 Musketeers bars came out in 1932 three separate mini-bars *vanilla, chocolate, and strawberry flavored) were packaged as one piece, hence the name, 3 Musketeers. The candy didn't become one total bar, with chocolate as the only flavor, until 1945.
3. Snickers
The Snickers bar was introduced to America by the Mars family in 1930 and was named after one of the family's horses. When Mars brought the treat over to the United Kingdom they decided to use the name Marathon Bar instead because Snickers sounded too much like "knickers" which is what people in the UK call their underwear.
4. Reese's Peanut Butter Cup
Reese's Peanut Butter Cups used to be sold individually for 1 penny each. So, when they were first introduced they were called Penny Cups. (don't you wish they were still 1 cent each?!?)
5. Tootsie Roll
Tootsie Rolls were invented by a candy shop in Brooklyn, New York in 1836 as a chocolate alternative that wouldn't melt. The owner of the shop's daughter was named Clara, but her nickname was Tootsie, so her Dad named his creation after her. (Clara Roll would have just sounded weird).
6. M&M's
In the 1930s, Forrest E. Mars, Sr. witnessed a lot of troops eating small, candy-coated pieces of chocolate during the Spanish Civil War, so when he returned home he called upon the son of the Hershey Corporation's Executive named Bruce Murrie to bring the delicious melt-in-your-mouth treat to America too. Basically, M&M's were named after the two creators, Mars & Murrie.
7. Butterfinger
The Butterfinger candy bar was created in 1926, and the name was chosen by a public contest. It is often said the name was inspired by one of the winner's friends who was a well-known klutz and called "Butterfingers".
8. KitKat
This 4-layer chocolate wafer candy was created in the early part of the 20th century by an English man named Rowntree who named the candy after 1600s book club that called themselves Kit Kat club.
9. Smarties
In England, little pieces of candy-coated chocolate are called Smarties, so when an English man living in New Jersey created these fruity sugar tablets, he decided to call them Smarties because he wanted to promote the importance of education.
10. Jolly Rancher
Jolly Ranchers were created in 1949 by a couple named Bill and Dorothy Harmsen who lived in Denver, Colorado. They wanted the name of their new candy to incorporate the friendliness and spirit of the West, so Jolly Racher was born.
Since we're on the subject of Halloween candy...do you want to play a quick game?
SWEET: Here are the most popular Halloween candies