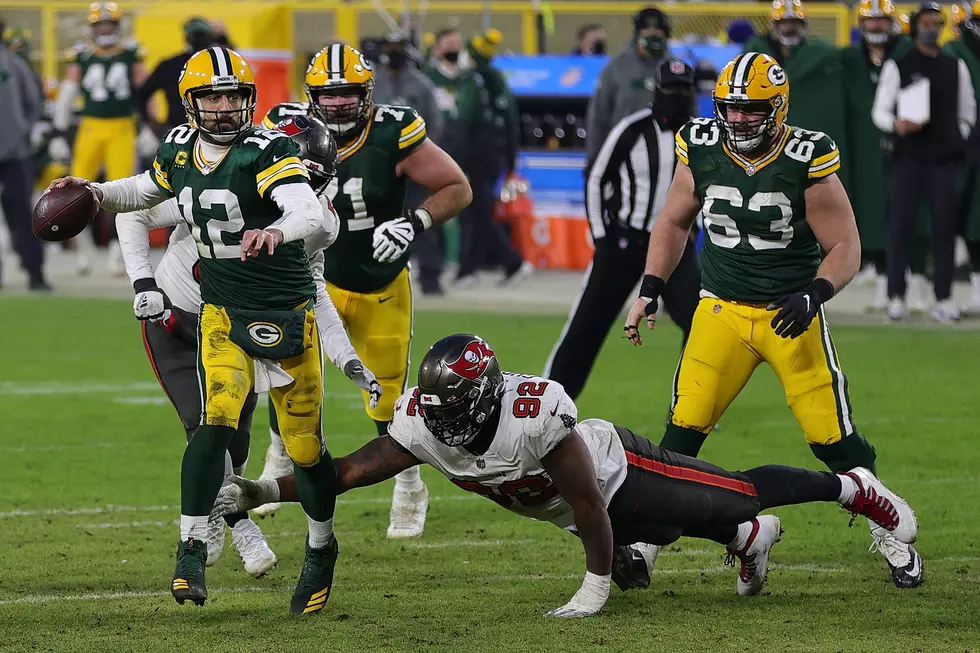 Has Aaron Rodgers Played His Final Game For The Green Bay Packers?
Getty Images
The Green Bay Packers lost the NFC Championship game on Sunday. In the process, they may have also lost their quarterback.
Late in the 4th quarter, the Packers trailed by 8 and had a 4th and goal with a chance to tie the game against Tom Brady and the Tampa Bay Buccaneers.
For some reason or another Packers Head Coach, Matt LaFleur opted to kick a field goal cutting the lead to 5. The Packers kicked off and never got the ball back as Tampa Bay ran out the clock sending them to the Super Bowl.
Why LaFleur's boneheaded decision to take the ball out of Aaron Rodgers' hands, a surefire Hall of Famer, just to put it squarely into the hands of another HOF'er, can be debated for ages. However, there's something else people are talking about now.
Shortly after the Packers' loss rumor started Aaron Rodgers may be on his way out of Titletown.
Rodgers commented "Lot of guys' futures that are uncertain, myself included." and "There are a lot of unknowns going into this offseason now. I'm going to have to take some time away for sure to clear my head to kind of see what is going on with everything, but it's pretty tough right now, especially thinking about the guys that may or may not be here next year.
Media speculation went crazy after Rodgers' remarks with him being linked to the Washington Football Team, Indianapolis Colts, Denver Broncos, and San Francisco 49ers.
As a Chicago Bears fan, I'm here for this news. The only way it gets better is if they trade Rodgers to the Monsters of the Midway. While the chances of Rodgers getting shipped out of Green Bay is slim to start, a trade to a hated rival seems even less likely.
Then again, we're talking about a team that wanted to kick a field goal instead of giving Rodgers a chance to tie the game so really anything's possible.
Enter your number to get our free mobile app
.
$190,000 7 Bedroom Home For Sale 90 Minutes From Rockford
Sweet Lenny is the brand manager of 97ZOK, Q98.5, and Operations Manager for Townsquare Media Rockford. Catch him afternoons 3 to 7 on 97ZOK. Follow him on Twitter, Instagram, and like his page on Facebook.