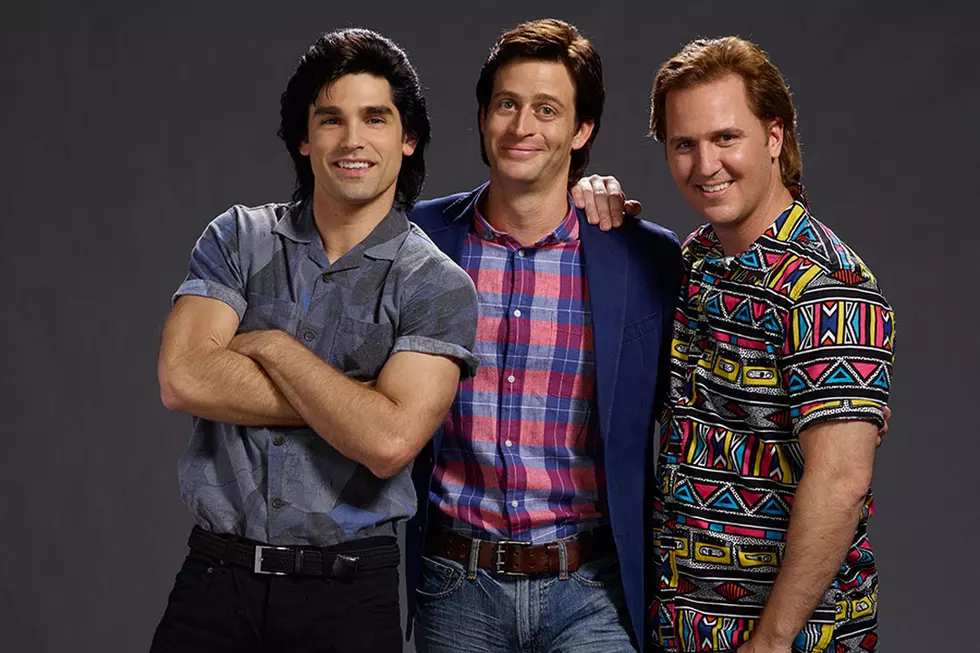 John Stamos Wants to Fire the Olsens in First 'Full House' Lifetime Clip
Lifetime
As updates from the Netflix Fuller House series continue to roll in (will the Olsen twins join the cast after all? Does a grown-up Stephanie still say "how rude!" all the time??), Lifetime has graced us with the first clip from The Unauthorized Full House Story. While it's just a brief taste, it's, um, immediately clear why nobody authorized it.
The scene reenacts a taping of the series when it first began — and the fact that it's a rough run-through is the only possible explanation for how slowly everyone delivers their lines. Seriously, in the time after The Lovely Young Actress Who Barely Resembles Jodie Sweetin stops talking, and when The Actor Who Maybe Sorta Looks Like Dave Coulier, If You Were Very Drunk And Also Lost Your Glasses picks up, you can hear actual crickets. Eons pass, oceans dry up. Laugh tracks have never been so necessary.
After the director yells cut, The Definitely Non-Greek Guy With the John Stamos Mullet Wig approaches him with some concerns about the Olsen twins' acting: "Is there any way you can find babies who are a little more comfortable on stage?" First of all, it's not a stage, it's a studio set, UNCLE JESSE. Second of all, we now know that John Stamos was once a big ol' meanie who nearly deprived of our nation of a thousand delightful "got it dudes" and so many Dualstar straight-to-video releases starring Mary-Kate and Ashley. Not cool, bruh.
Full House fans, watch the first clip from Lifetime's "The Unauthorized Full House Story"

Posted by BuzzFeed Entertainment on Wednesday, July 29, 2015
When did Hollywood become aware of our apparently bottomless appetite for all things Full House? A reboot, a biopic and an off-Broadway musical about a funny-ish, decades-old show feels like a lot. This almost feels like this is a tail-wagging-the-dog situation, in which we're in fact being told we want more Full House in our lives, and we're all just eating it up like free, somewhat delicious candy. Which is to say that I'll definitely be watching this Lifetime movie when it premieres on August 22.
Watch another teaser for The Unauthorized Full House Story below.