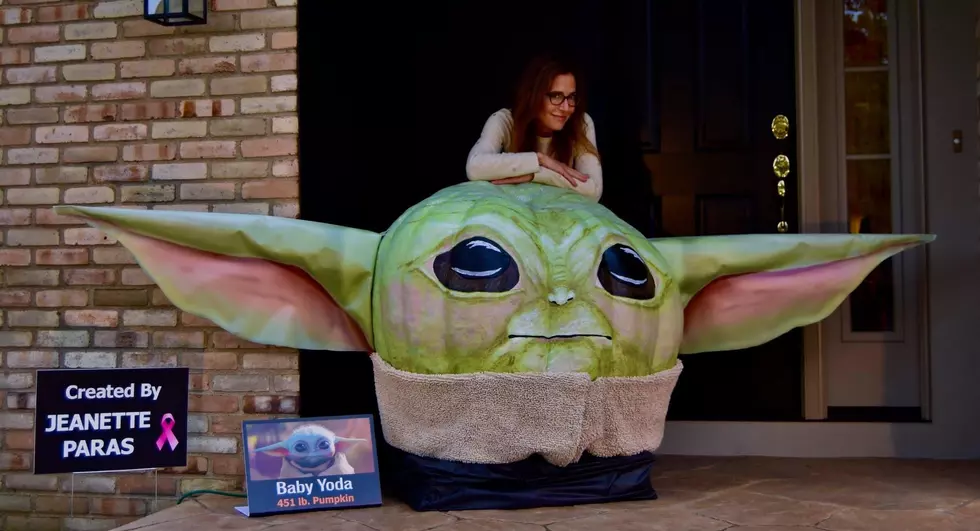 Ohio Woman Turns 451-pound pumpkin Into Baby Yoda
Credit ParasPumpkins Via Twitter
This year sucks, but Baby Yoda makes it better. Am I wrong?
No matter how rough 2020 has gotten, I can't help but smile whenever I see Baby Yoda on social media. From GIF's to Madalorian previews, seeing the little dude always makes my day.
If you think a GIF is cute, imagine a 451 pound-pumpkin turned into Baby Yoda. Well, Jeanette Paras knows this year needs as much Baby Yoda as we can get. The name? Baby YodaKin.
Artist Jeanette Paras says -
"I want people to look at Baby YodaKin, smile, appreciate his cuteness and enjoy a moment away from everything going on in the world today. To me, Baby YodaKin represents the mental-health break we need.
The pumpkin weighs 451 pounds and was grown by Scott Kulpa in Galena, Ohio. It measures 40 inches in diameter and includes two 39-inch ears, making the display almost 10 feet wide.
This isn't Jeanette's first pumpkin character. She's actually made quite the reputation for herself turning giant pumpkins into celebrities. Her giant Trump pumpkins made a ton of headlines in 2016.
There's a ton more on her website. From the Joker, to Minions, even Kanye West, you should totally check out her pumpkins from previous years. 
SWEET: Here are the most popular Halloween candies