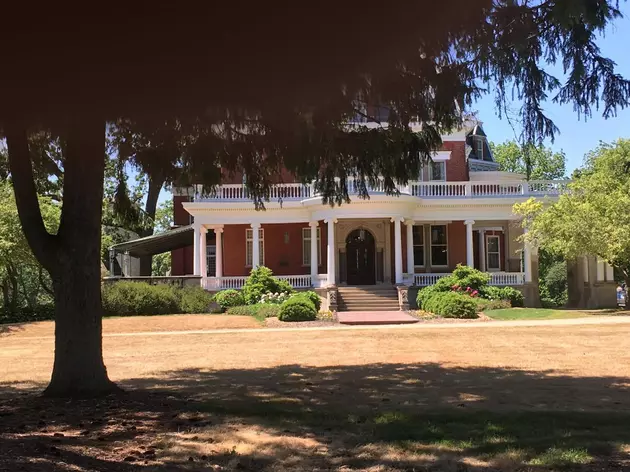 Someone Killed The Grass at DeKalb's Historic Ellwood House
Mark Charvat / Townsquare media
One of DeKalb's most treasured landmarks had a decidedly different look on Wednesday morning.  Someone killed the lawn! Who's to blame? Now we know.
This has got to be an example of the worst landscape fail of the year, and on such a historic piece of property.
DeKalb's Historic Ellwood house, which is located at the intersection of N. 1st Street and Augusta Avenue is one  of the Barb City's 'go to' destinations for over one hundred years.
Isaac Ellwood was the man who owed the home originally, and he was internationally known as the man who developed the barbed wire industry in America. The home is a popular tourist stop for people who visit DeKalb.
So what happened? According to the Daily Chronicle, two weeks ago, somebody "mixed up" when spraying chemicals on the lawn of the mansion. The chemicals ended up killing 75% of the lawn. So, if you are driving by, despite all the rain we got, the Ellwood house lawn is ugly brown and yellow in the month of June.
Look below, the sprayers missed a spot.
So who is to blame? The DeKalb Park District. According to the Daily Chronicle,
 Amy Doll, executive director of DeKalb Park District, said park district staff went out to spray weed killer on the lawn about two weeks ago, but a different chemical was accidentally sprayed instead
Looks like someone goofed up big time. So what comes next? Doll told the Daily Chronicle that park district crews will be tilling up the dead soil, and re-seeding and re-turfing the lawn.
Most likely, DeKalb taxpayers will be on the hook for this. No estimate was given on how much the lawn repairs will cost.
The Ellwood house is a very popular destination for brides and grooms to stop into for wedding  photographs, in addition the property is also rented out for summer weddings. Looks like future newlyweds will have to go somewhere else.