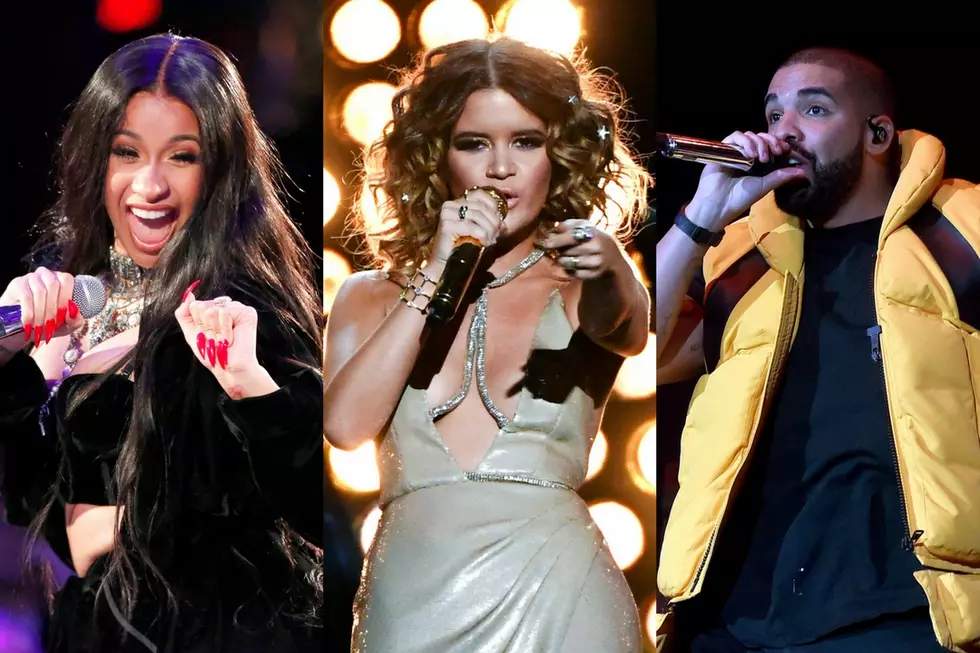 Where the Hell Is 2018's Song of Summer?
Brian Ach/Getty Images; Ethan Miller/Getty Images; Kevin Winter/Getty Images
Each year, usually around the first sign of spring, the internet shakes itself awake from the dark winter months and relaunches the search for Song of Summer, an arbitrary but timeless title bestowed upon whichever single best defines the season. Last year brought us the unprecedented crossover climb of Luis Fonsi's "Despacito," and 2016 the dancehall reign of Drake's "One Dance," but scan through the current Hot 100 and there aren't many obvious frontrunners.
"God's Plan," Drake's instantly quotable crowd-pleaser, has already begun to slip down the ranks; "Nice for What," the rapper's more recent No.1 entry, doesn't have the anthemic allure most summertime hits mandate; and Post Malone's "Psycho," though pervasive, is an after-hours downer better fit for the late-night trek back home than the pre-party rave-up. The same could be said for the rest of the Beerbongs & Bentleys catalog quietly creeping up the Top 40, and even for "Meant to Be," Bebe Rexha's genre-colliding team-up with country kings Florida Georgia Line. At this point, the only leading contender is Zedd, Maren Morris, and Grey's "The Middle," a hook-packed but by-the-numbers dance pop effort that's more likely to claim victory by default, not merit.
Those unfamiliar with the Song of Summer race might be thinking it's too early, there's still time, and plenty of proven hitmakers have releases planned in the coming months: Ariana Grande, Charlie Puth, Nicki Minaj, and, yes, even more Drake. But traditionally, the title winner has already been released by now. "One Dance" came out in early April, "Despacito" in January (and the Justin Bieber remix only three months later), and OMI's "Cheerleader," the 2015 champ, originally arrived all the way back in 2012, but got a late-bloom boost from Felix Jaehn's remix at the top of its crowning year. So where, then, is 2018's Song of Summer hiding?
A little further down the Hot 100 chart, there are a few prospects with promise. Calvin Harris and Dua Lipa's house-infused "One Kiss" is, upon first listen, a little too niche, but may be out of the box enough to make a surprise play. And "I Like It," a Latin-infused trunk-rattler from of-the-hour rapper Cardi B, is just the right amount of trendy and fresh, tapping into the bilingual craze but weaving in a hip-hop edge.
Of course, the door is still open to late entries, and right now, it's anyone's game.
Who do you think will take home this year's Song of Summer triumph? Vote below.
28 Albums That Dropped 10 Years Ago: Britney Spears, Taylor Swift + More