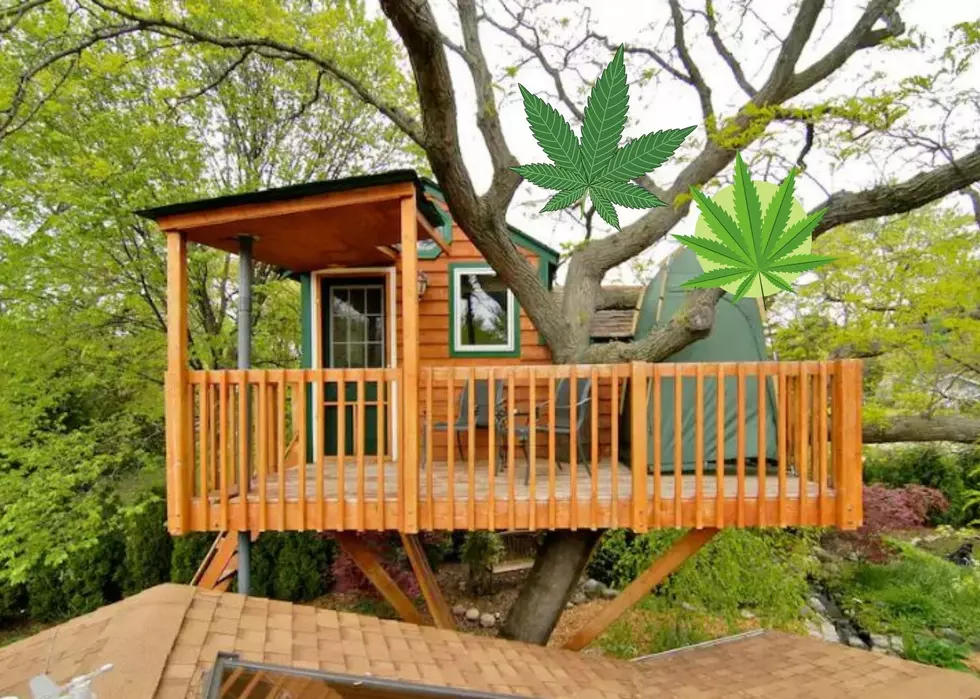 You Can Be Literally High In This 420 Friendly Illinois Treehouse Airbnb
Daniel/Airbnb
Fall is a beautiful season to get out and enjoy the great outdoors and there's a unique place in Illinois where you can do just that.
The Enchanted Garden Airbnb is a treehouse in Schaumberg, Illinois, which is only about a half-hour outside of Chicago. And it definitely has the look of an enchanted garden. There's a fire pit, 4 ft. deep hot tub, a Koi pond that has a waterfall going into it, a lot of pretty plants, and more.
The Airbnb can fit 4 guests inside- there's a double bed and two single beds in a loft. But wait...there's also a teepee. The teepee has two cots in it, although it does close for the winter season.
If you're feeling like you really just need to get away for a hot minute, the description of the Airbnb says that they're "420 friendly" and allow you to smoke the legal stuff in their enclosed outdoor areas.
The Airbnb will run you $247/night. It has a bunch of amenities like a fire pit, cushy robes, a hammock, and more. One pretty cool feature is that the showers are outdoors, walled with a bamboo privacy barrier. There's also a grill where you can cookout if you want to. The house has a fireplace, kitchenette, microwave, fridge, cable and wifi, a Keurig, and a fireman's pole.
Ready to check it out? To look at the availability of the treehouse, check out the Airbnb listing here.
Scroll down to see pics of the Enchanted Garden Airbnb!
You Can Be Literally High In This 420 Friendly Illinois Treehouse Airbnb
About two and a half hours away from the QC is a treehouse Airbnb that allows you to smoke legal cannabis.
Quad City Pumpkin Patches
It's pumpkin pickin' time in the Quad Cities. Pumpkins make great fall decorations and they are obviously fun to carve. If buying a pumpkin at a store doesn't cut it and you want the full experience of a pumpkin patch, we have the full list of pumpkin patches throughout the Quad Cities. If we are missing any local pumpkin patches,
email us here.
Signs a Long Hard Winter is Ahead
Have you seen any "evidence" of a harsh winter ahead? Let's take a look at some Midwest folklore stories that could predict how early or rough our winter will be.