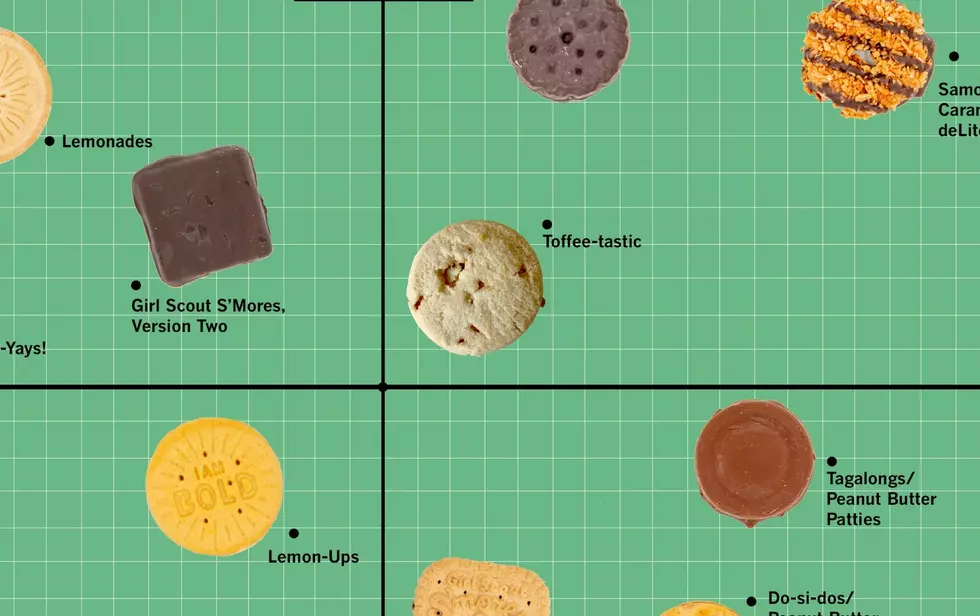 A Fancy Food Critic Ranked Girl Scout Cookies and Thin Mints Didn't Come in 1st Place
L.A. TIMES
We are in the midst of the most popular cookie season of the year and one fancy dude decided to officially rank girl scout cookies. Do you agree with his list?
Girl Scout cookie season is fun for everyone. Kids, adults, teenagers, grandmas, you name the person and they'll eat a girl scout cookie or nine.
But what's the best cookie of the bunch?
Thin Mints, right? I didn't even think it was a discussion. The chocolate mint cookies always outsell the rest, and they're my personal faves, too.
But according to Lucas Kwan Peterson from the L.A. Times, they are actually in fourth place. 
Lucas tasted these cookies both room temp and frozen to compile the ranking.
Here's what his taste test revealed:
Samoas/Caramel deLites

Tagalongs/Peanut Butter Patties

Do-si-dos/Peanut Butter Sandwich

Thin Mints

Toffee-tastic

Girl Scout S'Mores, Version 1 (sandwich)

Lemon-Ups

Trefoils/Shortbread

Girl Scout S'mores, Version 2

Lemonades

Toast-Yays!

Caramel Chocolate Chip
Thin Mints did come out on top for the frozen list, you can see where everyone else ranked right here. 
Catch Midday Michelle on 97 ZOK from 10 a.m. to 3 p.m. Follow her on Twitter, Instagram, and Facebook.
Enter your number to get our free mobile app
.
Historic Seven Bedroom Home Built In 1882 For Sale In Freeport For Only $149K