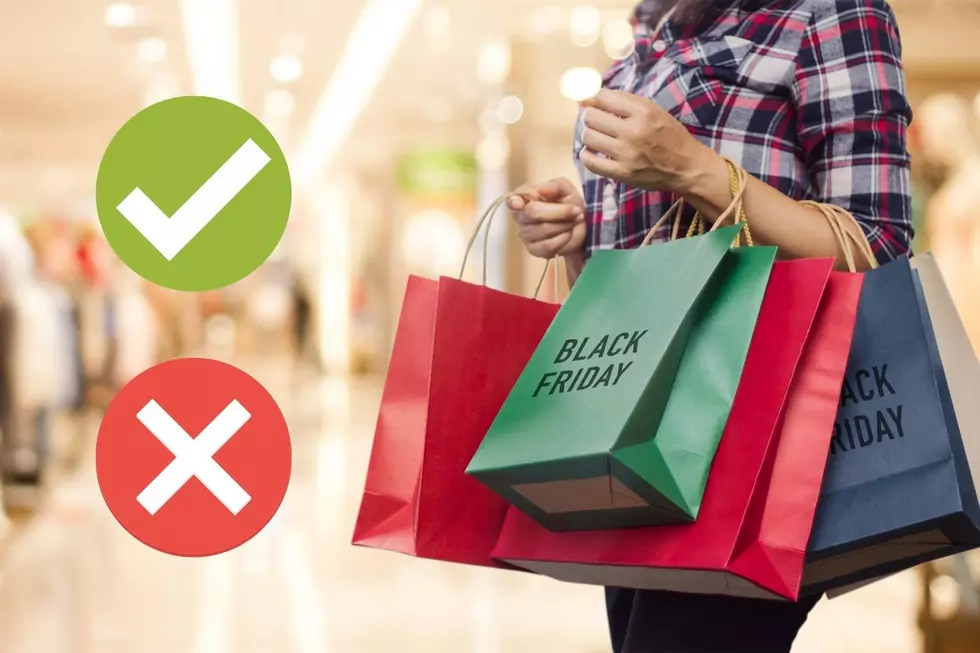 Illinoisans, Avoid These 10 Common Black Friday Shopping Mistakes
Canva
Honestly, it seems like the best idea to plan your Black Friday adventures pretty far in advance because stores are having deals earlier and earlier every year to beat the competition.
Personally, I am not one to bring my tent and camp outside of Best Buy four days in advance just to get a television, gaming console, or any of the hot trending gadgets.
I definitely don't like to buy just because an exclusive item is heavily desired by majority of the world.
FOMO (Fear Of Missing Out) is real, but sometimes it really isn't worth the stress to navigate around huge crowds and heavy traffic during Black Friday.
BUT... if you are one of the take advantage of Black Friday and all the deals, you should 100% have a game plan.  You will save yourself so much time, money, and energy getting after all those Christmas gifts!
Here's what I would recommend:
#1: Have a budget
It is so easy to impulse buy when the deals are screaming your name.  Know how much you are comfortable spending so you don't overdo it this Holiday.  As much as stores are happy taking your money, you won't be smiling after checking your bank account.
#2: Don't have your wallet or cell phone easily accessible
Pickpockets will be out and about looking for their next victims.  If you have a lot of cash, protect it!  If your phone is sticking out of your pocket, don't think you're safe!
#3: DO NOT BE RUDE TO EMPLOYEES
As much as you want the cashier to hurry up another customer's transaction, don't be rude to them.  There are thousands of shoppers and the cashier is only one person. BE NICE!
#4: Don't bring your kids with you
You know damn well it will be pure chaos inside any stores on Black Friday.  You know your kids best, would they be okay in a high stress environment?  Plus, they'll get tired with all the running around - that means less shopping time for you!
#5: SHOP WITH FRIENDS!
There are actually a few perks to having a friend with you: They can save your spot in the long lines, help you decide what to buy, and you can protect each other wherever you go!
#6: Black Friday is on FRIDAY.
Don't forget about Thanksgiving.  Even though deals might be happening on Thanksgiving day, remember family is important too!  Save the deals for Friday.
#7: Do your research before buying
Sometimes the deals offered on Black Friday aren't always the best.  Retailers raise the "original" price to make the deals look significantly bigger.  Check the internet for prices first!
#8: Shop Cyber Monday deals
Beat the crowds, stay in your pajamas, grab your phone, and buy gifts from the comfort of your own bed.  You literally don't have to move to browse your favorite deals online!
#9: DRESS IN COMFY CLOTHES
You really don't know what Black Friday will look like this year, so be prepared to wait in long lines.  Wear your most comfortable outfits because everybody and their mother will be doing the same!
#10: Really want it? GET IT!
This is just me being a bad influence, but if you really have been waiting for something.... just get it.  This is the one time I say impulse buy!  We both know you'll regret walking away from that air fryer.
All in all, have a fun time shopping.  Make some "worth it" purchases that will not only make you happy, but your bank account too!
Best Places in Rockford to Shop For Mom
You're guaranteed to make Mom smile this Mother's Day when you buy her any of these items in Rockford.
37 Rockford Stores & Restaurants We Want to See Make a Comeback