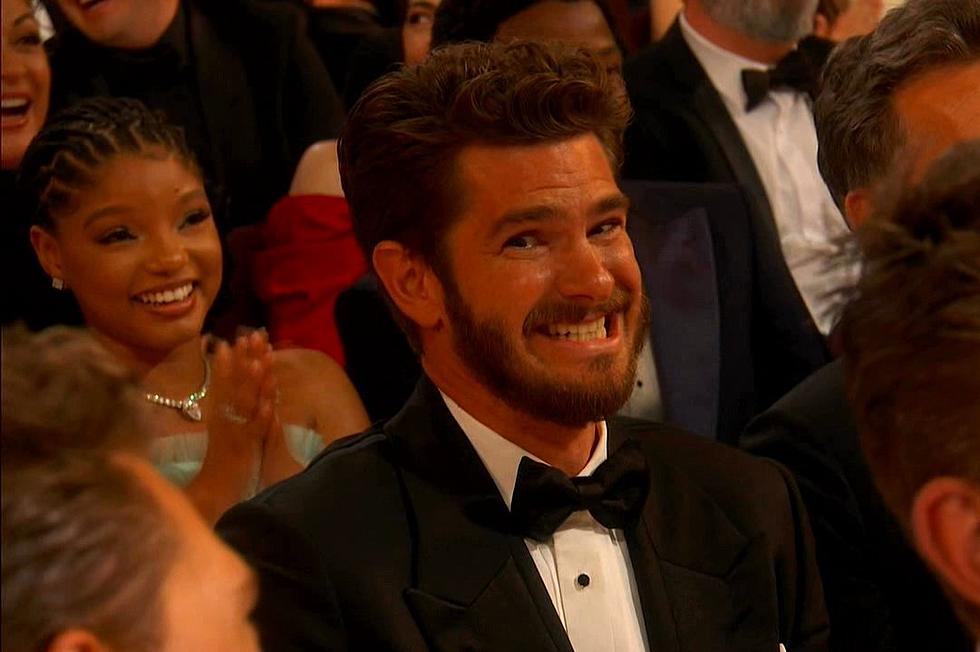 Andrew Garfield's Sheepish Face and More of the Best Memes From the 2023 Oscars
ABC
In terms of meme material, it was always going to be impossible for the 2023 Oscars to top last year's controversial Slap Heard 'Round the Academy of Motion Picture Arts and Sciences.
Still, this year's awards ceremony came through with a handful of memorable viral moments.
From Andrew Garfield's sheepish expression during Jimmy Kimmel's opening monologue to the internet's choice for Best Supporting Actress — Jenny the donkey — here are some of the best memes and moments from the 95th Academy Awards telecast.
Andrew Garfield's Face
Andrew Garfield gave the camera an awkward smile before making a delightfully sheepish expression that promptly went viral after Kimmel referred to him during his opening monologue.
"You are gonna have to tangle with Spider-Man," Kimmel joked, warning any would-be onstage slappers from trying to assault him on stage.
"EVERYONE ELSE IS READY TO GO AND THEN THERE'S ANDREW GARFIELD REGRETTING EVERY DECISION HE'S EVER MADE IN HIS LIFE HELP," one fan tweeted of the moment.
Someone else seemingly made a callback to Oscars presenter Ariana DeBose's recent viral BAFTAs rap.
"Andrew Garfield you are all of us!" they tweeted.
Jenny the Donkey
Some viral moments even inspired fancams, such as Jenny the donkey from the film Banshees of Inisherin.
Jenny stole the show when she arrived onstage alongside Oscars host Jimmy Kimmel.
"Find someone who looks at you the way Colin Farrell looks at Jenny the Donkey," one viewer tweeted.
"Jenny the Donkey is gorgeous," another gushed.
"You sweet, adorable queen!" someone else tweeted about the adorable Jenny.
However, according to Vulture, the donkey featured on stage was not the real Jenny, but rather a stand-in donkey. We've been lied to!
Jessica Chastain's Mask
Other viewers loved Jessica Chastain's commitment to wearing her face mask during the show.
"Jessica Chastain's dedication to not getting sick is unparalleled. An icon," one viewer wrote on Twitter.
"Baby Jessica Chastain has that mask on TIGHT she is not playing with these people," another person tweeted.
READ MORE: Lady Gaga Helped Man Who Fell on 2023 Oscars Red Carpet
Others praised Chastain on Twitter for wearing a mask while still "serving looks."
Meanwhile, Elizabeth Banks appeared to present while seemingly fighting a cold, prompting jokes about the correlation between her illness and Chastain's mask.
"Jessica Chastain saw Elizabeth Banks choking on her own spit and said, 'f--- it mask on,'" someone joked.
2023 Oscars Red Carpet Fashion Photos
See celebrity fashion photos from the 2023 Oscars red carpet.