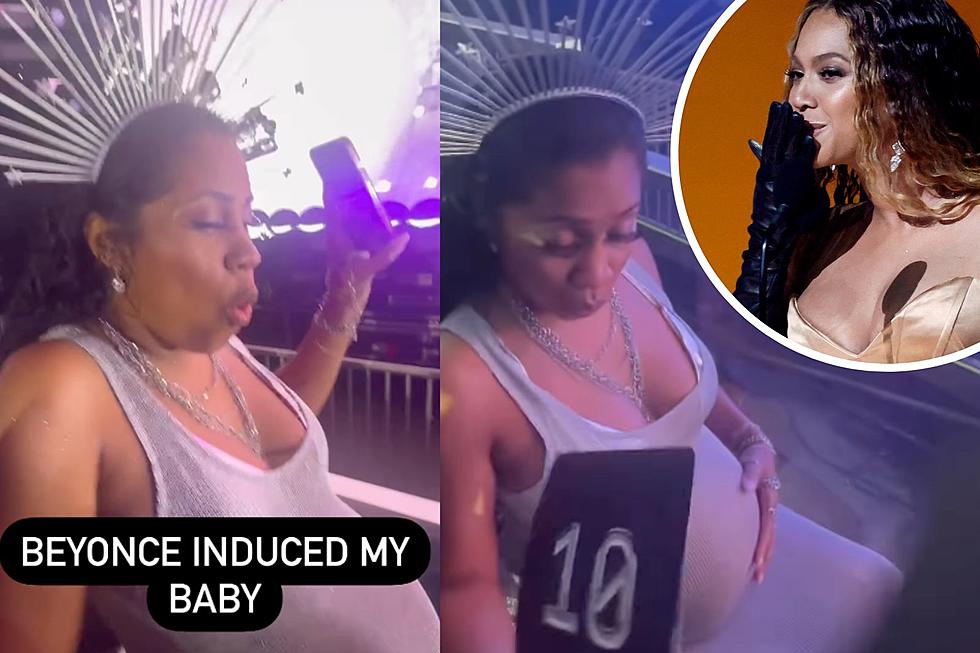 Beyonce Concert Induces Labor for Expectant Mom in Crowd: WATCH
Frazer Harrison, Getty Images/Sarah Francis Jones via Instagram
While Beyoncé celebrated her birthday on stage one of her fans nearly gave birth while enjoying the show at So-Fi Stadium outside of Los Angeles on Sept. 4.
She Chose The Perfect Song To Go Into Labor
According to KABC in Los Angeles, Sarah Francis Jones wasn't about to miss seeing Beyoncé perform despite being very pregnant the night of the show. Her baby was schedule to be delivered via C-section a week later.
The night had been a success for the expecting mom until Beyoncé started to play "Virgo's Groove" of her Renaissance album a little more than halfway into her setlist.
Jones told KABC that she initially thought she was having false contractions and decided to stay the rest of the show, By the time she and dad-to-be Marcel Spears made it to the car, it was clear their baby girl was ready to make her arrival.
"I may or may not have sped past some red lights on accident," Spears told the TV station.
Just a short time later, baby girl Nola was born at a local hospital. For those keeping track, Nola is a Virgo just like her mom.
"It had to be a perfect set of circumstances," Jones told a reporter. "We're at Beyoncé's birthday concert on Labor Day. And then I go into labor with my Virgo baby. I'm a Virgo, so it just made sense."
Sharing A Birthday With Beyoncé
The So-Fi stadium show was notable for other reasons besides Nola's arrival into this world. Beyoncé turned the night into a huge birthday bash.
The star-studded affair for the performer's 42nd birthday included special appearances on stage by Kendrick Lamar and Diana Ross.
Famous faces in the crowd for the show included Justin Bieber, Kylie Jenner, Timothee Chalamet, Zendaya, Tom Holland and several others.
Beyoncé and her Renaissance World Tour will next stop at Lumen Field in Seattle on Sept. 14.
Look Inside Beyonce's Childhood Home In Houston, TX
The home was sold in 2019 but will remain forever linked with a global superstar.
Celebrity Pregnancy Announcements That Made Major Headlines
From
Beyonce
's record-breaking Instagram announcement to
Britney Spears
' first pregnancy, we've rounded up the most memorable celebrity pregnancies that made history in pop culture. Check it out, below.