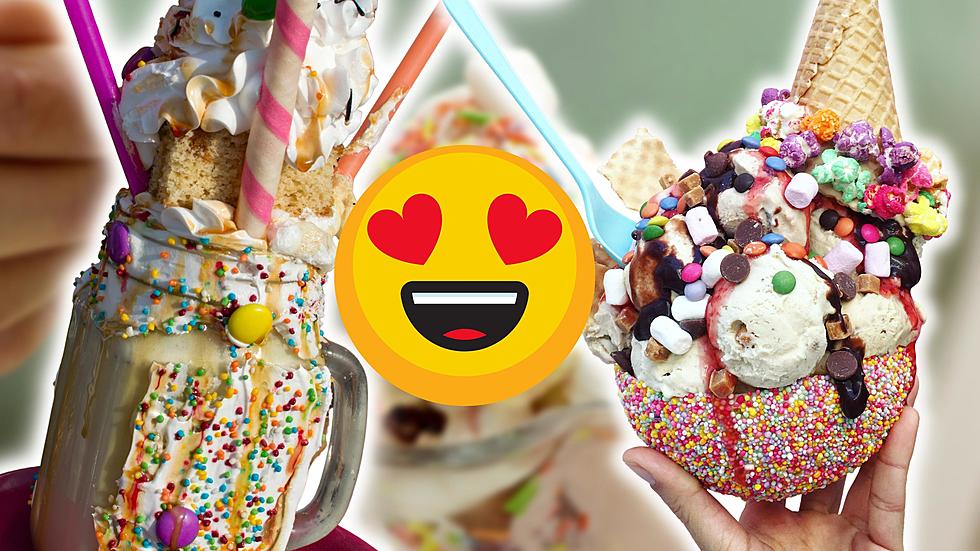 SNEAK PEEK! New Instagram Worthy Dessert Bar Coming To Illinois
Canva
You ever catch yourself staring at a photo of dessert and just drool a *little* bit? Well, get your napkins ready.  What I'm about to show you is irresistibly mouthwatering.
JoJo's ShakeBAR in Naperville, IL is opening it's doors on February 15th, 2022 to give you a chance to taste dessert masterpieces you've probably only seen on TikTok.
Their menus vary depending on location, but this Girl Scout Cookies shake will be sold on opening day!  It's an Andes mint chocolate shake with toasted marshmallow, chocolate pretzel, chocolate s'more, double chocolate cookie and fernet.
JoJo's ShakeBAR is the next-generation restaurant and bar. Its' modern, yet familiar, diner experience is grounded in nostalgia and focuses on creative desserts and elevated diner favorites.
Holy sugar, that's a lot of toppings!  Hold me back, please.
On top of these scrumptious desserts, there's also a restaurant and bar! The menu currently offers a wide selection of snacks, sandwiches, suppers, wines, cocktails, and beers you can order from.
Onion Ring Tower
I'm not totally sure I could eat any of these food items by myself, it's definitely best to bring someone with you to experience all of this together!
Buffalo Wings
At the other two locations; River North and Water Tower, there are some really cool photo ops inside the ShakeBAR's JoJo's Candy Land that I hope the Naperville location will have! This one is super cute!
Valentine's Day Specials are currently available at the other locations if you can't make it to Naperville! My sensory overload is kicking in right...now.
Make sure to make your reservations soon because I guarantee JoJo's ShakeBAR is going to be PACKED once doors open!  Don't miss out on a night out filled with lots of sugar, overflowing sundaes, and a delicious dinner with friends.
There's a good chance you won't see me here, though.  I know.  Sad.  Dairy is not my friend and I'll be EASILY tempted to try all of the desserts on the menu.  If you put anything edible in front of me that's slightly delicious looking, I'm done for.
Besides that, please check out JoJo's ShakeBAR for me.  PLEASE.  Remember, opening day is February 15th, 2022 and it'll be the perfect spot to spend a late Valentine's Date with your sweetie... or by yourself!
Downtown Naperville location: 5 Jackson Ave 

Naperville, IL 60540
What Are the Signature Drinks From Every State?
Gallery — Every Movie Theater Candy, Ranked: