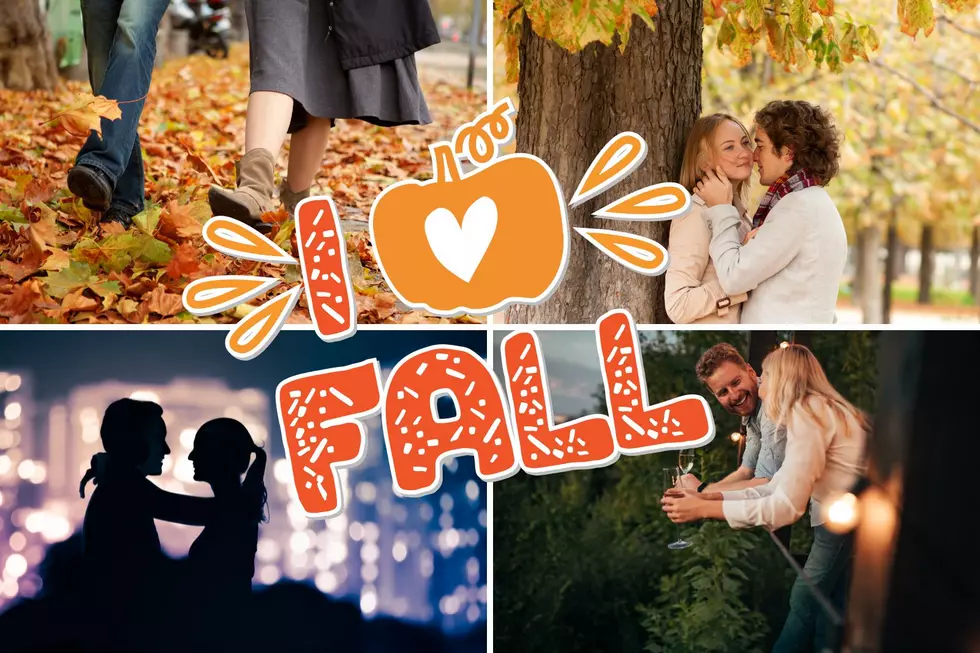 LOOK! 11 Great Fall Date Ideas No Matter Where You Live in Illinois
Canva
Fall is a pretty incredible time of year to release some feel-good hormones into your blood. As if there is a bad time to do that. In the fall, the pictures look better, that's why.
Whether you're going on a first date, your first fall, or finally getting some good time in with your spouse, don't miss out on the tremendous beauty of this season. There's an intensely romantic force in the air from mid-September until the frigidness of winter.
11 Great Fall Date Ideas in Illinois
A fall afternoon, nighttime fun, or overnight, for those who love fall, this list looks like fun to me. I live in Rockford, so some specific places are in northern Illinois, but it shouldn't be hard to find some replacements around your area.
Fall Date Idea #1 - Farmer's Market
Spend the morning or afternoon at one of the area farmers' markets. Stock up on fresh veggies and make some salsa together. Fresh flowers, too.
Fall Date Idea #2 - Scenic Walk and Picnic
Take a scenic walk at Rock Cut State Park, downtown Rockford by the river, or at one of the Forest Preserves. Hold hands, breathe in the fresh air, and admire all of the beautiful colors. Blanket, snuggle, crisp fall afternoon. Bring a thermos of hot chocolate.
Fall Date Idea #3 - Scary Movie Night
Rent a scary movie and have a night in. If the relationship is new, this will guarantee some close encounters.
Fall Date Idea #4 - Visit a Winery
Tour some of the area's wineries. Stock up on wine. Cranberry is a must for this time of year.
McEacheron Homestead winery
DC Estates winery
Famous Fossil winery
Northleaf winery
Fall Date Idea #5 - Apple Orchard
Visit an apple orchard. Drink cider, eat donuts, and pick-your-own apples. When you get home, look up a recipe. Don't skip the kitchen dancing.
Fall Date Idea #6 - Pumpkin Carving
Carve pumpkins together. Save the pumpkin seeds and bake them in whatever way you would like for yet another delicious fall snack. I recommend 'everything bagel' seasoning.
Fall Date Idea #7 - Horseback Riding
If you're feeling a little adventurous, go horseback riding at Lockwood Park. This is another great way to witness the beauty of fall.
Fall Date Idea #8 - Backyard Camping
Go camping in your backyard. Make a bonfire, cook S'mores, play hide-and-seek in the dark, lay out underneath the stars, searching for constellations.
Fall Date Idea #9 - A Night In
Plan a night in. Make a fire, drink wine, read a book together, and light some great-smelling fall candles.
Fall Date Idea #10 - Photoshoot
Hire a photographer to do a romantic photoshoot of the two of you, or ask a friend to take the pictures. Then use the pictures for your Christmas card.
Fall Date Idea #11 - Day Trip
Take a day trip to Galena. Enjoy the scenery, and visit the shops. Sip wine, eat amazing food, and bring home some specialty coffees. You won't struggle to find things to do in Galena
Have fun FALLing in love.
5 Perfect for Fall Apple Orchards in Northern Illinois to Visit
Even the biggest spring and summer lovers have a deep appreciation for a trip to an apple orchard. We're lucky to have so many this close to us.
25 Things You Might Actually NOT Hate About Fall
Summer lovers, we've had us a blast. Now, it seems we're moving into fall a little too fast. Here are some things to help the fun last.
31 Photos Proving There's No Illinois Town More Beautiful Than Galena
Unbelievably Restored 163-yr-old Million Dollar Wisconsin Farmhouse
Not one detail was missed in giving this very old farmhouse new life. A couple new buildings added and a connecting underground tunnel, too.