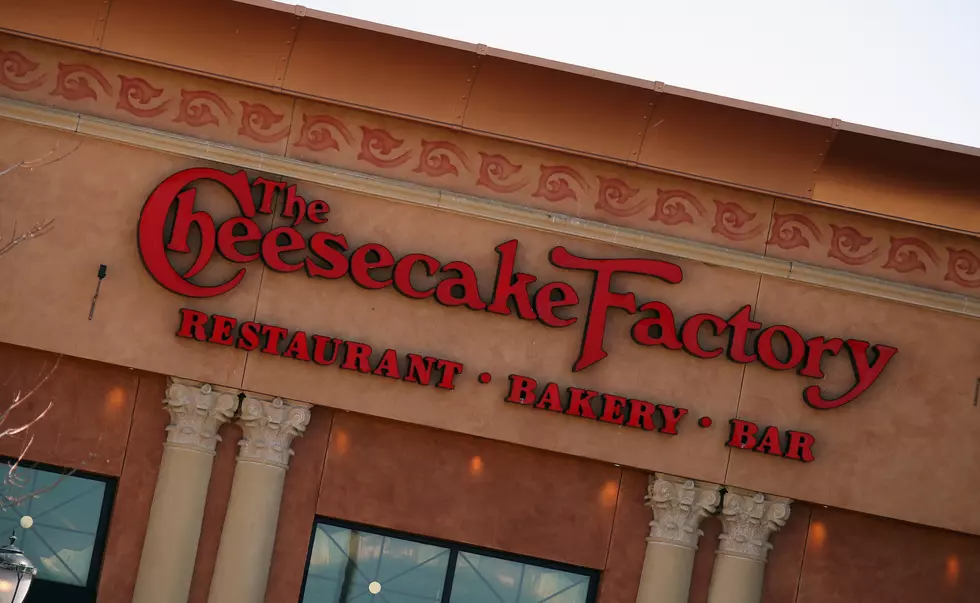 13 Reasons I Love The Cheesecake Factory's New Bigger Menu
Getty Images
Shopping at Woodfield Mall in Schaumburg must always include The Cheesecake Factory, it's in my wedding vows. You won't believe what they just did.
Do remember your first time eating at The Cheesecake Factory and being handed their ten pound menu? In my entire life I have never been to a restaurant with a bigger menu. It is ridiculously large. It must've taken me close to a half hour to make a decision. I blame how long it took on those warm brown baguettes and butter. How the heck can you make a decision on what to have for an entree, when they put a 'carb carnival' in front of you.
The Cheesecake Factory rolled out this new menu on March 5th and according to Thrillist, here are the 9 new reasons my love for this place has grown. I can't wait to try ALL of these new dishes. If you're wondering why I didn't say 13, like the title of this article says, just wait!
Baked Rigatoni: Rigatoni pasta layered with melted Mozzarella, Fontina, and Parmesan cheese then doused in Chicken Bolognese Sauce. (Oh good grief bring me all that cheese!)
Caramel Apple Pancakes: Buttermilk pancakes with glazed apples, crispy caramel pecans, and chantilly cream—served with maple-butter syrup. (now we're doing breakfast before we shop)
Carolina Grilled Salmon: Charbroiled and glazed salmon served with Carolina BBQ Sauce and roasted sweet potatoes. A corn, avocado, zucchini, and cilantro salad comes as a side. (never thought to put BBQ sauce on salmon)
Cauliflower Tacos: Soft corn tortillas with crispy fried cauliflower, avocado, onion, chipotle and toasted pepitas—served with rice and beans. (I'm kind of cauliflower-ed out but this flavor combo is probably amazing)
Classic Italian Trio: Fettuccini Alfredo, chicken parmesan, and baked rigatoni. (I mean, come on... I'll be taking a nap in their booth, with a big smile on my face)
French Dip Cheeseburger: Charbroiled cheeseburger served on a toasted Brioche roll and topped with grilled onions, Sriracha Mayo, and an Au Jus dipping sauce. (I'm drooling)
Korean Fried Chicken: Crispy chicken tossed with spicy Korean BBQ Sauce and served over steamed rice, avocado, kimchi, edamame, cilantro, and sesame seeds. (I cant wait for the sticky fingers from eating this chicken)
Pan Roasted Chicken: Deboned half chicken pan served with mashed potatoes and veggies. (this is the healthy choice to make us feel less guilty for giant slice of cheesecake we're having afterward)
Sweet Potato Enchiladas: Warm corn tortillas filled with roasted sweet potatoes, poblano peppers, onion, and melted cheese. The enchiladas are covered in a red chile salsa, sour cream, and toasted pepitas with black beans and cilantro rice on the side. (the menu curators are some amazing people)
Now, for the reason I said, 13 Reasons I Love The Cheesecake Factory's New Bigger Menu...
These 4 new cocktails they just added. A Grapefruit Cosmo, Key Lime Martini, Pineapple Mescal, and a Strawberry-infused Margarita.
Thank you Cheesecake Factory, for making 13 a lucky number.
What Are the Signature Drinks From Every State?
Steve Shannon is host of The Steve Shannon Show on 97ZOK. On the air weekday mornings from 6 to 10 a.m. and a special 'Rewind' show, featuring favorite moments from previous shows, on Saturday mornings from 5 to 7 a.m.. Follow him on Twitter, Instagram, and like his page on Facebook.