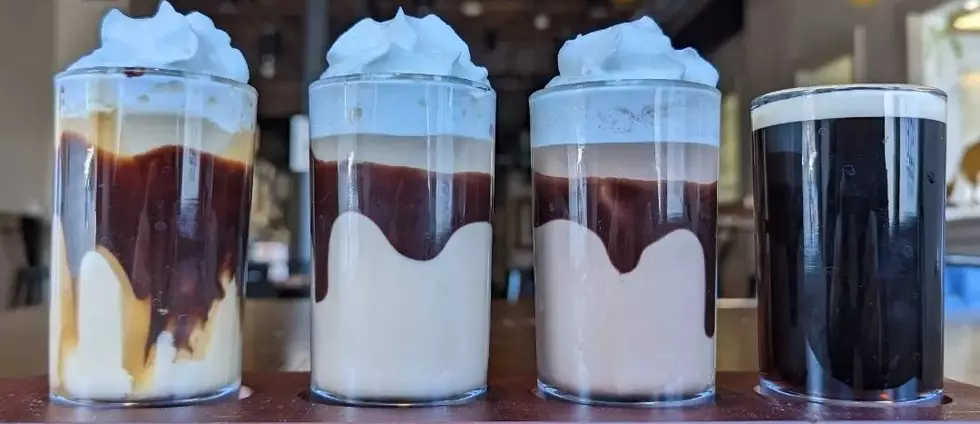 Forget Feelings, Catch (Coffee) Flights at Illinois Hot Spot This February
Velvet Robot Coffee Lab
February may be the month for falling in love, but you can fall in coffee instead.
Flights. It's a word usually associated with traveling on a airplane, but it also comes in handy when you're ordering a drink and you can't pick just one.
I think wine flights were the first drink to take on the aviation phrase, but at this point you can pretty much get a flight of anything at bars and restaurants.
That means, beer, martinis, cheese, sliders... and coffee!
Honestly coffee flights make the most sense. Most coffee shops offer so many incredible flavors, it's hard to pick just one.
And now at Velvet Robot Coffee Lab, you don't just have to pick one!
Just this week both locations of Velvet Robot Coffee Lab announced their Winter Flights, packed with Salted Caramel Mocha, S'mores, Heath and VR 10W.
If you don't know, VR 10W is the coffee lab's signature black cold brew.
You know what's the only problem with flights? Choosing where to start and where to finish.
Unless you're kind of crazy (in a good way) and drink all four at the same time by rotating sips and ending with whatever you wish you had more of!
I have to imagine my favorite of this bunch would be the Salted Caramel Mocha, but I'll have to go grab a flight to double check.
What Are the Signature Drinks From Every State?
27 Best Places for Hot Soup on a Cold Day in Illinois
Looking for the best soup in Illinois? Look no further. These 27 places have the best soup reviews in the entire state.