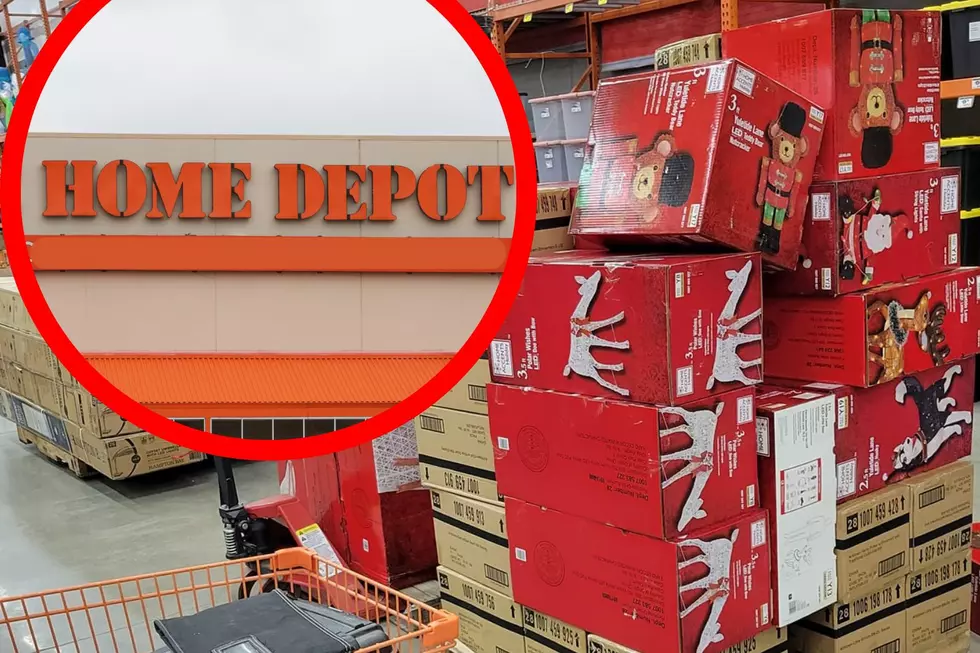 It's Beginning To Look A Lot Like Christmas At An Illinois Home Depot
Canva/FB
Big box stores are getting ahead of the game this year.  Some put out Halloween decorations before fall arrived... now they're prepping for another holiday nearly three months in advance!
I was scrolling through Facebook a few months ago and saw a friend of mine post that Home Depot skipped fall and went straight to Halloween.
That was in August.  Fall didn't even start until September 22nd, y'all.
Well, someone over at the home improvement store thought it'd be a great idea to start selling Christmas decorations right along with the Halloween decor this week.
IT'S BEGINNING TO LOOK A LOT LIKE CHRISTMAS AT HOME DEPOT
This is at the Rockford, Illinois location.  I mean, pretty convenient for all you early birds who like to get your seasonal and holiday shopping out of the way!
According to Terri's Facebook friends, they definitely weren't too happy with Christmas making its way to the sales floor so soon!
Her daughter said what pretty much everybody else was thinking.
After Rachel commented, "It's beginning to look a lot like Christmas", Taryn had a choice of words for her (lol):
I worked at Payless ShoeSource in Rockford during Christmas one year and it was nothing but 'Jingle Bell Rock' and 'All I Want For Christmas Is You' from November through January.  My ears nearly bled for months.
As long as the Christmas music doesn't start playing at stores until December, I'll be a happy camper.  Spare us the pain, please.
Is preparing for Christmas in September ruining the fun of Halloween that hasn't even happened yet?  Send me your thoughts!
20 Halloween Costumes That Scream Yup, I'm From Illinois
10 Magical Christmas Towns You Have to See in Wisconsin