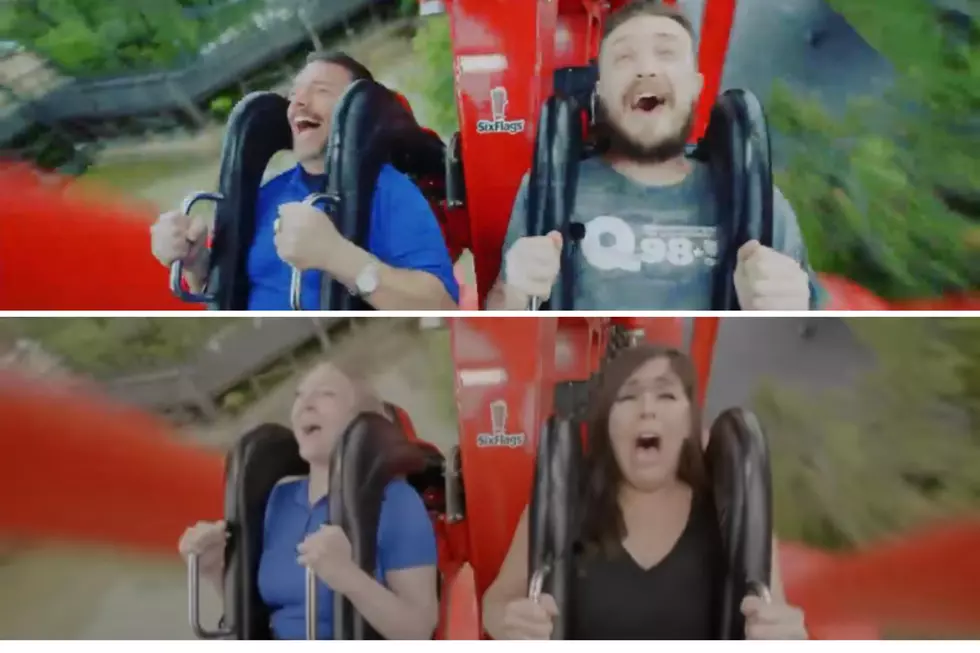 Illinois News Anchor vs. Radio Host: Which Screamed The Best?
JB Love via Instagram, Whitney Martin via Facebook
This week Six Flags Great America invited select members of the media to get a preview of the reimagined DC Universe section of the park, which is formally known as Yankee Harbor.
Seeing it in person for the first time proved quite the glow-up.
Vertical Velocity is now The Flash: Vertical Velocity.
The Whirligig Swing is now DC Super-Villains Swing.
Buildings have been repainted and look sharp.
But my favorite addition is this new Batmobile on display. It's pretty awesome.
One thing I also learned is an abundance of coffee isn't needed when handling radio responsibilities at 6 am inside Six Flags Great America. The 90 minutes drive to the park was fueled by a Starbucks Double Shot (mocha) and a donut.
Now, truth be told, I was running on "e" when I got to the park but sometimes you have to fake it 'til you make it. This was about to change when pure adrenaline was on the horizon.
While getting escorted to The Flash: Vertical Velocity I learned I would be riding alongside Six Flags Great America Park President John Krajnak. (Apparently, he drew the short straw.)
Truth be told I had no clue I would be on the ride until I noticed a fancy camera rig attached to one of the cars on the ride. "Game. ON." I thought to myself. (I love coasters even though I'm deathly afraid of heights.)
BATTLE OF THE SCREAMS
After my experience on the 0-70 mile per hour ride that launches riders 185 feet into the air, I bumped into my longtime friend Whitney Martin, from WTVO Eyewitness News. She was a little nervous about the ride. I probably didn't help by telling her how terrifying it is when you're staring straight down at a height of 180-some odd feet in the air.
So, who's scream was better?
Before you compare the videos I'm going to concede right now because Whitney was authentically terrified on this ride. I laughed way too hard when I watched her video the first time.
Here's my vid:
Here's Whitney's vid:
Now, do you understand why I conceded?
There's an Underground Superhero Lair in this Illinois Home for Sale
Looking for a home with a superhero lair? You can stop your search now.
ILLINOIS FLASHBACK: DONLEY's WILD WEST TOWN
Here is a look at Donley's Wild West Town, in Union, Illinois, before the closure of the park in 2022.