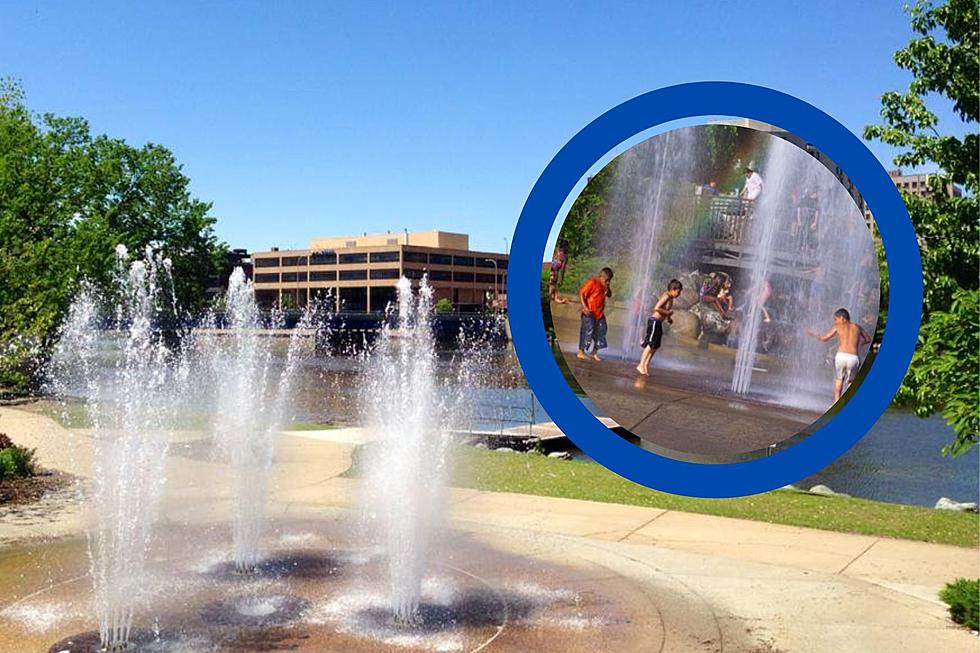 An Illinois Fountain That Has Been Misused For Years Is Getting a Redo
GoRockford via Facebook, Canva
The 'Millenium Fountain" located in downtown Rockford by the City Market Pavillion is headed for a major upgrade this summer that all families will love.
Do you Splash Around in Rockford's Millenium Fountain?
If you've ever been to Rockford City Market on a hot Friday night during the summer, I'm willing to bet you, or most likely your children, have splashed around in the cool water of the Millenium Fountain.
Honestly, I have never let my children do it because I feel like the water that comes from it is less than sanitary.  Is the water coming straight from the river? Is it constantly recycling the same water? (It's often used as a shower by our homeless community). Turns out, I was right...for the most part.
The Millenium Fountain was never truly intended for public use, and the water that flows through it is recycled drain water. The City of Rockford knows that MANY families use the fountain as a fun way to cool down in the summer, so now they have decided to finally upgrade it to an official splash pad.
New Splash Pad Coming Soon to Rockford
After years of innocent misuse by the community, the Millenium Fountain in downtown Rockford will be transformed into a legitimate splash pad later this summer. The most important part of the Fountain's upgrade will be the plumbing.
Rockford's director of Public Works, Kyle Saunders, recently told mystateline.com;
this new splash pad will [allow people] to … play in, and [the water will be] treated. So, it will be water-to-waste, but it will be more activated high efficiency, so we're not wasting water resources."
It is unclear at this time if this Millenium Fountain upgrade will include new splash features, but it will include updated landscaping around it. The new splash pad still needs to be approved by the full City Council, but if it does, construction will begin early this summer and be completed by August. (Hopefully!)
Since we're on the subject of summer fun, here are more places you need to check out in the 815 when the temps begin to rise...
21 Different Rockford Area Swimming Pools to Keep You Cool this Summer
If you're looking to learn to swim, take a dip or just cool off, these are the 21 best in the Rockford area.
25 Rockford(ish) Spots For Cool Sweet Treats When It's Stupid Hot Outside
Here are some of the best places for ice cream and other cool sweet treats in and around Rockford.