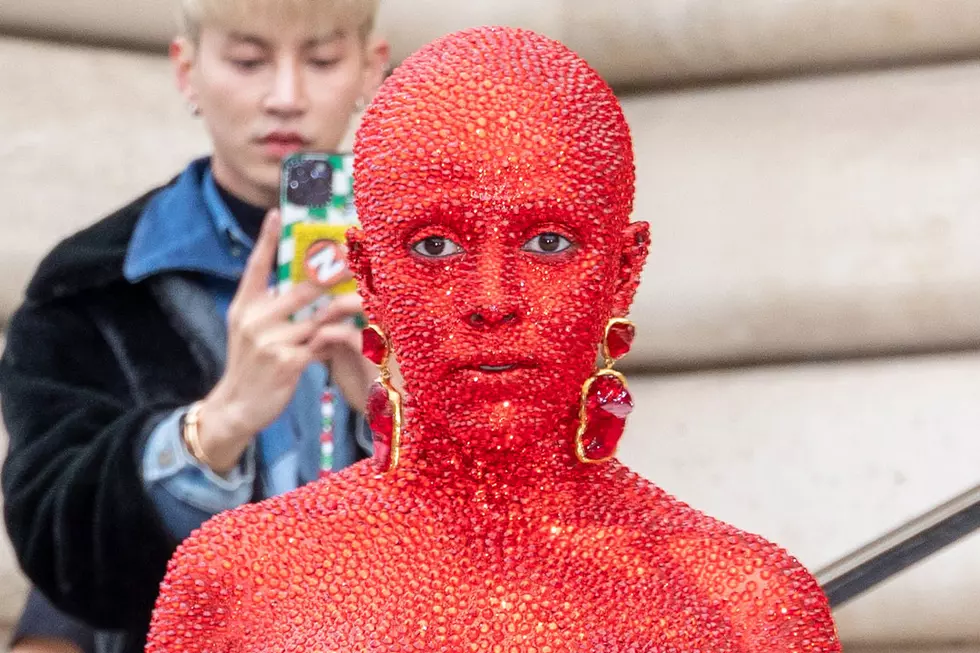 Doja Cat Trends on Twitter for Strange Outfit at Paris Fashion Week
Marc Piasecki/WireImage
UPDATE (Jan. 23):
Doja Cat's vibrant red ensemble at Schiaparelli's spring 2023 fashion show in Paris was truly a sight to behold. According to Elle, Doja wore a Schiaparelli silk faille bustier with matching stiletto boots, a flowing shawl and a knitted skirt covered in lacquered wooden beads. But the talk of the outfit was the Planet Her rapper's skin painted red and covered in 30,000 Swarovski crystals that were hand-applied by makeup artist Pat McGrath and her team.
On her Instagram page, McGrath saluted Doja Cat for her patience in helping to create the "Doja Inferno" beauty look that took four hours and 58 minutes to achieve the fashion-forward creation.
"Such a pleasure working with the gorgeous @DojaCat and the amazing @DanielRoseberry on the 'Doja's Inferno' look for @Schiaparelli's FW23 Haute Couture collection," she wrote. "Doja's sublime patience during the 4 hours and 58 minutes it took to create the look with #TeamPatMcGrath, which was covered in over 30,000 hand-applied @swarovski Crystals, was inspiring. The final product was a magical, mesmerising masterpiece of sparkling brilliance. xx"
Brilliant, indeed.
ORIGINAL STORY (Jan. 23):
Doja Cat is known for thinking outside the box when it comes to her look and the "Woman" rapper recently turned heads with a peculiar outfit she donned during Paris Fashion Week.
Many rappers are in Paris taking in PFW, which highlights the haute new clothing of the year. Doja Cat was spotted in an ensemble that has her trending on Twitter. On Monday (Jan. 23), photos surfaced of Doja in the City of Light rocking a bubbly red outfit that made her stand out. The Grammy-wining recording artist has on a skirt that appears to be made up of a bunch of red bubbles/berries, matching red calf-high boots and a red shawl. She took the look to the next level by creating the same bubbling effect all over her skin with red rhinestones, including her entire face and head.
Of course, the look had the internet talking, with mixed reviews.
"This is the lobster / this is the doja cat," one person on Twitter captioned a photo comparing Doja's look to the marine crustacean.
"If it's one thing doja cat gonna do during fashion week is use her brilliant mind followed up with an amazing team to create looks that go beyond just your regular beat face and outfit. each look comes with a lot of thought and for that I appreciate her looks ALWAYS," another person captioned previous Doja Cat looks.
"Doja Cat is never worried about appealing to beauty standards when serving a look. Always fully committed to the fashion," another page posted.
"Watch the conspiracy theorists say that Doja dressed as the devil to complete her illuminati ritual," one post on the topic read.
Doja Cat has been making headlines for her atypical fashion choices. Last summer, she shocked many people by shaving her head and eyebrows. Last month, she responded to people saying her new look is a humiliation ritual.
See Photos of Doja Cat's Paris Fashion Week Outfit and Fan Reactions Below
See the Most Recognizable Looks in Your Favorite Rappers' Careers
Nicki Minaj, Future, Lil Uzi Vert and more.