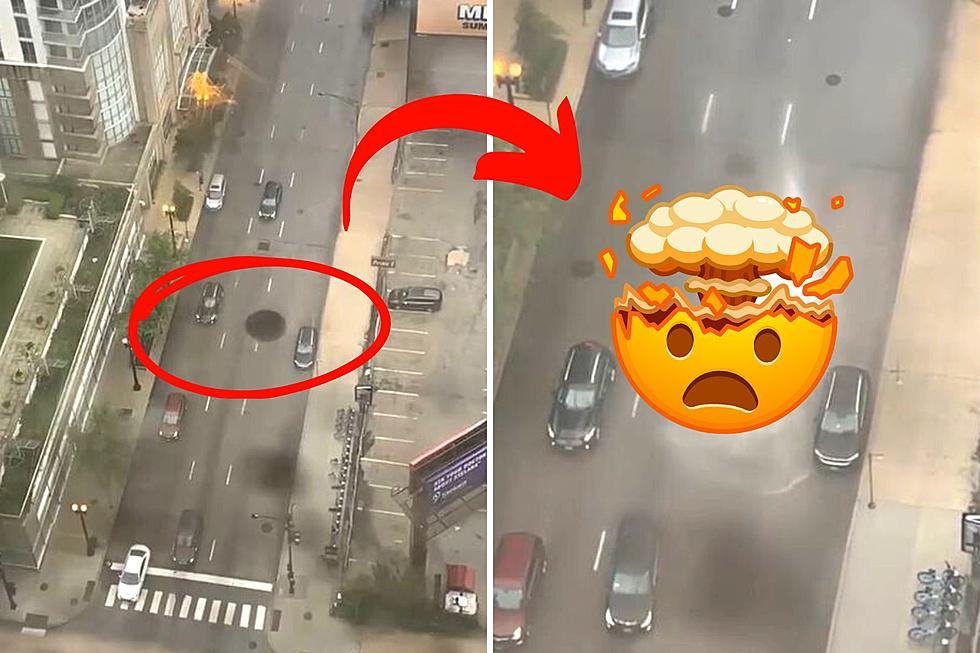 Water Explosion From Massive Manhole In Chicago's West Loop [VIDEO]
TikTok - Josh Wasil
I was in Chicago the day this video surfaced and I'm still wondering if it's even real?
My family went to visit my sister in Chicago over the weekend and there were so many flash flood warnings the closer we got into the city.
Cars were trying to get to their destinations before the floods hit, but some got stuck in very deep water on the highways and were fighting for their lives to get to safety.
Related: Illinois Woman Eats Chicago Kong Dog For The First Time [VIDEO]
After heavy rains and flooding that occurred in Chicago a few days ago, nobody was prepared for what someone posted online of water erupting out of a manhole the size of a sinkhole in Chi's West Loop.
My #1 question: why is this manhole so freakin' big?!
I watched this video a thousand times and every time I said, "that look likes the dancing waters from the fountains in Vegas!"  Tell me I'm wrong!!!
At Jefferson and Monroe in the West Loop there was nowhere for the water to go but up. Urban geysers are not common but can happen when the city's deep tunnel system gets more water than its vents are designed to handle. [CBS Chicago]

 
Honestly, I wouldn't be surprised if this was real because Chicago does have pretty awful roads.  You couldn't pay me enough to drive over that cover, nope.
Look Inside Chicago High Rise Apartment Once Occupied By Major SNL Star
Take a Look Inside an Abandoned and Creepy Chicago Police Station
If you were wondering what a police department would look like in an apocalypse, look no further.