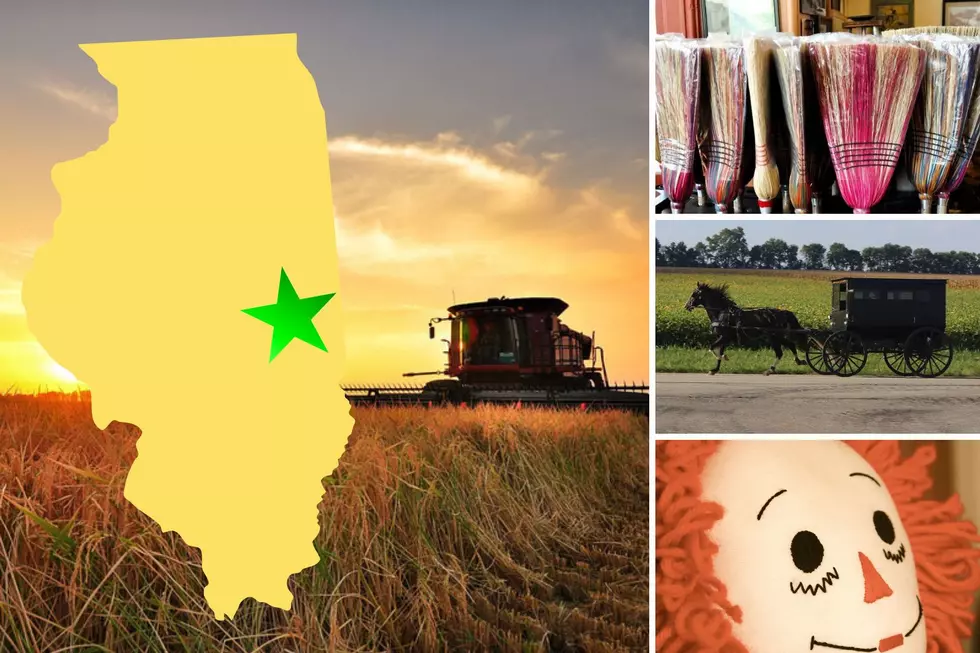 Very Small Town of Under 3,000 Just Dubbed Illinois' Most Underrated
Arcola Chamber of Commerce Facebook/Canva
Lawn mower parades, a hippie memorial, brooms everywhere, and the birthplace of the Raggedy Ann and Raggedy Andy dolls.
Throughout Illinois, there are small towns with stories only the locals know, that is until you visit and come looking for those stories. While there are no bad times to take a road trip to discover some of these unique-story-filled towns, we just happen to be coming into my favorite time of year to take a road trip. Recently, I shared 5 Illinois road trips I think are perfect for late summer, early-fall and now I'd like to add one more, after this recent feature on a very small town in eastern Illinois.
The website, Love Exploring, just named the most underrated town in every state and the town named in Illinois has a population of under 3,000. Before you judge too quickly and assume that there can't possibly be anything interesting going on here, know that you'd be wrong. What Illinois town made this list?
Arcola is The Most Underrated Town in Illinois
I should start by saying that before seeing the list from Love Exploring, I'd never heard of this town. Arcola is about 90 minutes east of Illinois' capital city, Springfield, and is also known as the Gateway to Amish Country. But, what else is going on in Arcola? I looked up some things and here's what I found out tiny Arcola, Illinois.
Interesting Facts About Arcola, Illinois' Most Underrated Town
Arcola is the birthplace of artist, political cartoonist, children's book and comics author, illustrator, and storyteller, John Barton Gruelle. John is who created Raggedy Ann and Raggedy Andy, the dolls and storybook characters.
A 25-acre horse ranch near Arcola is also where actress Jennie Garth, best known as "Kelly Taylor" from Beverley Hills 902120, spent most of her childhood.
Arcola is home to the only HIppie Memorial in the world. The memorial was created by Bob Moomaw, who died in 1998. He worked as a railroad clerk and tax assessor but did not like either job. As an eccentric, independent artist with strong beliefs, he was able to give voice to his feelings, passions, and opinions through his art. He created the 62-foot-long artwork you can see below starting in 1992 to say something about his life and the era during which he lived, according to Wiki.
Since 1980, Arcola is also home to the Lawn Rangers, a precision lawn mower drill team that marches in formation with brooms, lawn mowers, and cowboy hats in the annual Arcola Broom Corn Festival Parade.
So many cool things about Illinois that you probably didn't even know. Did you know about this next town that holds several world records?
Tiny Illinois Town is in Guinness Book of World Records 12 Times
One very small Illinois town has built themselves into a giant across the globe and I'll bet you didn't even know. Neither did I. A whole lotta wow going on.