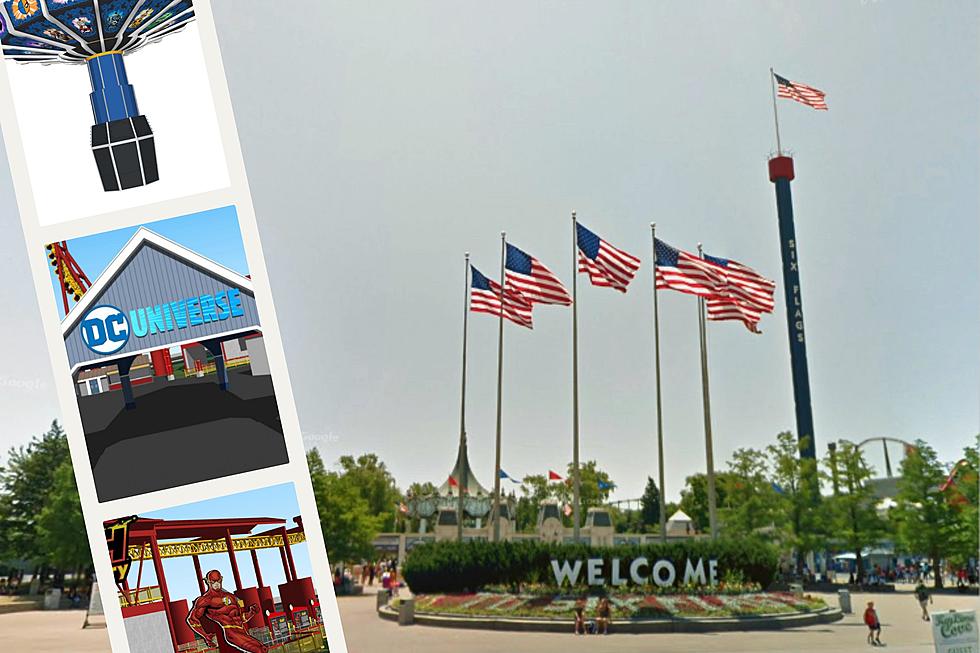 Big Changes, Illinois Theme Park Getting Biggest Glow-Up in Recent Memory
Six Flags Great America, Google Street View via Canva
Six Flags Great America has experienced new rides and upgrades here and there but nothing to this magnitude in recent memory. After nearly 50 years, one of the original sections of the park is getting a major glow-up.
The squared area of this map of Six Flags Great America already reveals some of the changes coming in 2022. You might even realize is "DC Universe" is the updated name of the section once formerly known as 'Yankee Harbor'. The area is getting a new name and look after 46 years, it was one of the original areas of the theme pack.
Ch-Ch-Changes Coming
It's not just a name change coming to Six Flags in Gurnee, Illinois. The entire section is getting a makeover. Here was to expect.
The entry into DC Universe will go from this...
...to this.
Vertical Velocity will go from this...
... to this. A new color scheme and a new name "The Flash: Vertical Velocity."
Here's another view.
Whirligig (the swings) will transform from this...
to this, along with a name change, "DC Super-Villains Swing."
Yankee Clipper will also undergo a name change to 'Aquaman Splashdown.' It'll go from this...
... to this.
THERE'S MORE!
Along with a new look there will be changes made to food as well. For those with "super hero-sized" appetities there will be a reimagined dining experiece.
Steelworks Pub (with a beer garden and patio)
Gotham City Snacks
Central City Snacks
Guests will be able to order ahead on the park's mobile app.
The DC Universe glow-up will be ready for guests to experience on Friday, April 15, 2020.
20 of the Best Day Trips to Take From Illinois
Revised 2022 Hollywood Amphitheatre Concert Schedule
Looking to see your favorite band or singer do their thing live? There's a good chance it's happening in Tinley Park.