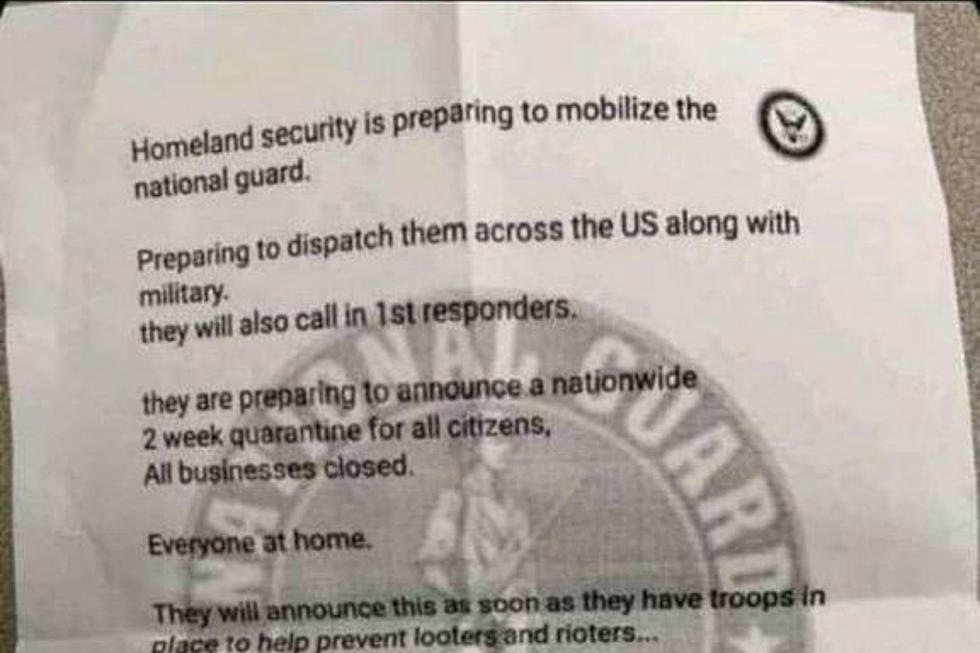 Homeland Security Memo Saying Rockford To Be Locked Down is False
Reddit Photo
Here's another example of being aware of what you're reading. It's also another reason to double-check where you are getting important information. There's a note circulating Rockford invoking more fear into some of the people who've spotted it. The memo claims Homeland Security and the National Guard will be enforcing a complete lockdown keeping residents in their homes for two weeks. But, like those emails claiming a prince has a million dollars for you, the memo is fake. The memo in question was uploaded to Reddit.
The memo has what appears to be a National Guard emblem in the background along with various government logos throughout the piece of paper. At first glance, the typos should be a clear indication of this being a fake document. The first sentence is lacking necessary capital letters. The second sentence has incorrect grammar. The third sentence is just a mess.
Homeland security is preparing to mobilize the national guard.

Preparing to dispatch them across the US along with military.

they will also call in 1st responders.

they are preparing to announce a nationwide

2 week quarantine for all citizens,

All businesses closed.

Everyone at home.
If anyone is cringing it should be over the number of errors in the first half of this "memo." But, there are at least 4 or 5 more errors in the remainder of this waste of paper. Here are a few more examples.
Stock up on whatever you need to make sure you have a two week supply of everything.

Please forward to your family/friends.
By no means am I a government document expert but I would assume if this were an actual government-issued alert there it would look a little nicer than if it were typed out by someone who decided to close their eyes while working on this "important" piece of information. And, according to Politifact, this is indeed fake. Check out the entire memo here.
---
JB Love is ½ of  Q98.5's Lil Zim & JB In The Morning, weekday mornings from 5:00 a.m. to 10 a.m. Follow him on Twitter, Instagram.
---
Enter your number to get our free mobile app
KEEP READING: Get answers to 51 of the most frequently asked weather questions...