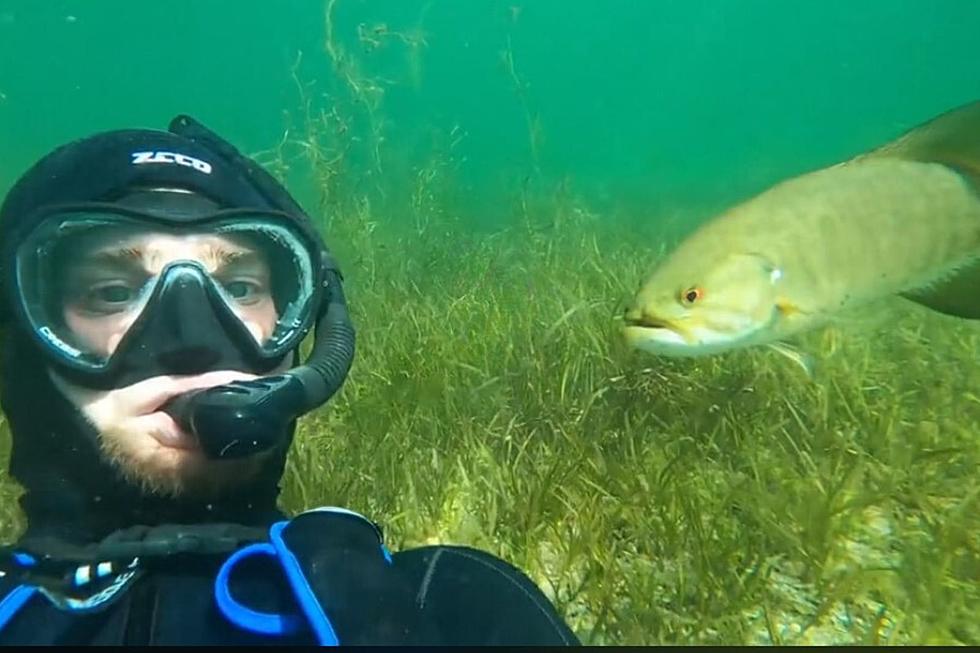 One Wisconsin Diver Is BFFs With a Fish and Has the Friendship Account to Prove It
Elvis the Smallmouth via TikTok
A Wisconsin diver has been BFFs with a smallmouth bass for over 2 years now, but their relationship just went viral, and it is the best thing you'll see all day.
Wisconsin Man's Fishy Best Friend
It's not often that I scroll through TikTok, but something I saw today stopped me dead in my tracks and totally made me smile.
In 2021, a man named Rex Coluba went for a dive in a Wisconsin lake and came upon a friendly and curious smallmouth bass who he affectionately named Elvis. For the next 13 months after meeting Elvis, Rex went on at least 12 different underwater adventures with his "best friend" right by his side.  This unique friend pair have snacks together, play together, and Rex even has his own way of calling for Elvis once he enters the lake.
Rex Coluba is so devoted to his fishy best friend Eli that he created a friendship account on TikTok, to show the world their many adventures. Here is one of my favorite videos from the page...
The videos that Rex shares on TikTok of his time spent with Elvis may be the biggest reason their fascinating relationship has gone viral, but that's not my favorite part of the story...the special way Elvis changed Rex's heart is.
How Elvis the Fish Changed Rex Coluba's Heart
In one of the captions on ElvistheSmallmouth's TikTok Rex Coluba explained how he grew up on a Wisconsin lake and was an avid fisherman. He has always loved animals, but it wasn't until he went snorkeling in the lake waters and saw how "inquisitive" fish are that he hung up his fishing pole for good. Coluba said;
 I started to notice that the majority of these fish had messed up mouths. Ripped jaws, huge swollen lips, large black bruises and missing mouth parts. My dumb brain thought "oh, there must be some strange 'lip disease' in this lake affecting these fish"… then I surfaced for air and saw the shoreline full of anglers… Oh… Since then, I've ditched my rod and tackle box for a GoPro and goggles. I'm much more happy and at peace doing this. 
Am I the only one that had their heart break a little for fish after reading that?
If you need something to make you smile today, watch all of the videos on ElvistheSmallmouth Tiktok, I promise you won't be disappointed!
LOOK: 30 fascinating facts about sleep in the animal kingdom
LOOK: Here are the pets banned in each state
Because the regulation of exotic animals is left to states, some organizations, including The Humane Society of the United States, advocate for federal, standardized legislation that would ban owning large cats, bears, primates, and large poisonous snakes as pets.
Read on to see which pets are banned in your home state, as well as across the nation.