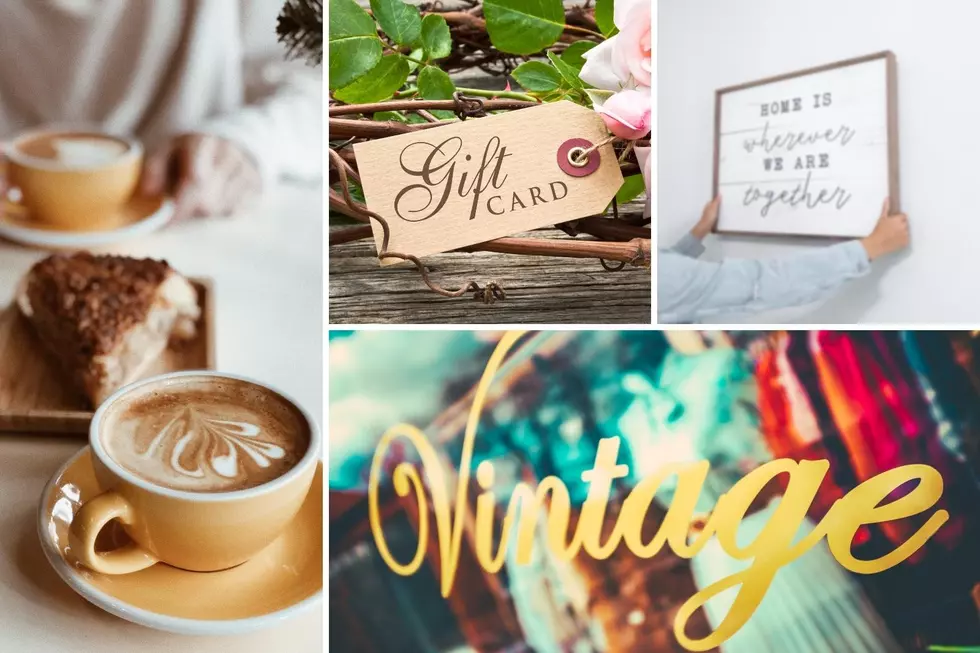 Find The Perfect Gift At These Local Shops In The Rockford Area
Canva
If you are one of the millions of people who wait last minute to get Christmas shopping done (like me lol), let me help you get ahead of the game this year with some local gift ideas in Rockford!
As much as we love getting the best deals at big box stores around town, let's shop local and support small businesses this Holiday season!  Local gifts are always more heartfelt, locally made, and meaningful to the person you're gifting it to.
Find The Perfect Gift At These Local Shops In The Stateline
#1: URBAN FARMGIRL
I live down the street from Urban Farmgirl's warehouse and they're always incredibly busy!  Their gorgeous, rustic, farm-style furniture and home decorations are one-of-a-kind pieces you and your besties will fall in love with.
We all have that adventurous, outdoors-y friend, right?  Grab them some outdoor gear or water sports equipment from RockTown Adventures - they will love you forever!
#3: WOODFIRE PIZZA
Who doesn't love food? Especially local eats!  A gift card to your bestie's favorite pizza joints is always a brilliant idea.  Simple, doesn't take up too much space in their wallet, and maybe they'll treat you to dinner!
#4: THE CANINE CRUNCHERY, INC.
Your fur babies deserve some love, too!  Spoil your pooch with endless treats, cupcakes, and cookies from The Canine Crunchery.  Pick up a bandana while you're at it!
Easily a one-stop-shop for everything your Rockford/815 friends want.  Represent Rockford and make a visit! They have apparel, mugs, stocking stuffers, outdoor gear, and so much more.  Plus, you get to see Pepper the shop dog while you're there!
#6: CULTURE SHOCK
If you're looking for fun, quirky gifts, Culture Shock is definitely the place to be.  From records, to clothing, to extremely fitting gifts your friends will truly love, there's something for everybody here.  They have a cute shop dog, too!
#7: BYGONE BRAND
One of my favorites to shop at! If you're all about nostalgia, check out Bygone Brand.  They have all the apparel and accessories you need to remember the lost places we loved growing up.
#8: DOWNTOWN COFFEE SHOPS
You know that one person who needs their coffee fix every morning.  Make a coffee-inspired basket full of coffee, mugs, and gift cards from Rockford Roasting Company, Velvet Robot Coffee Lab, Inzombia Coffee, Wired Café, Katie's Cup, or Candy Cloud!
#9: SMILEY'S VINTAGE
Vintage lovers will LOVE shopping at Smiley's.  This local shop has a ton of character to it and you can easily find something for yourself, your best friend, mom, dad, uncle, and everybody in your family.  New stock daily!
Calling all "edgier" fans, Wolf Hollow has you covered!
"Find eerie comfort in our Gothic Victorian Gift Shoppe for your mind, body and home." - Wolf Hollow

 
28 Crappy Gifts Anyone From Illinois Will Love
Man Bundt Bakery: Small Illinois Bakery Creates Most Amazing Cakes You've Ever Seen
Every occasion that calls for cake, this is my 'go-to' spot. Sculpting the absolute coolest cakes around. A peanut-free facility, vegan-friendly and incredible.