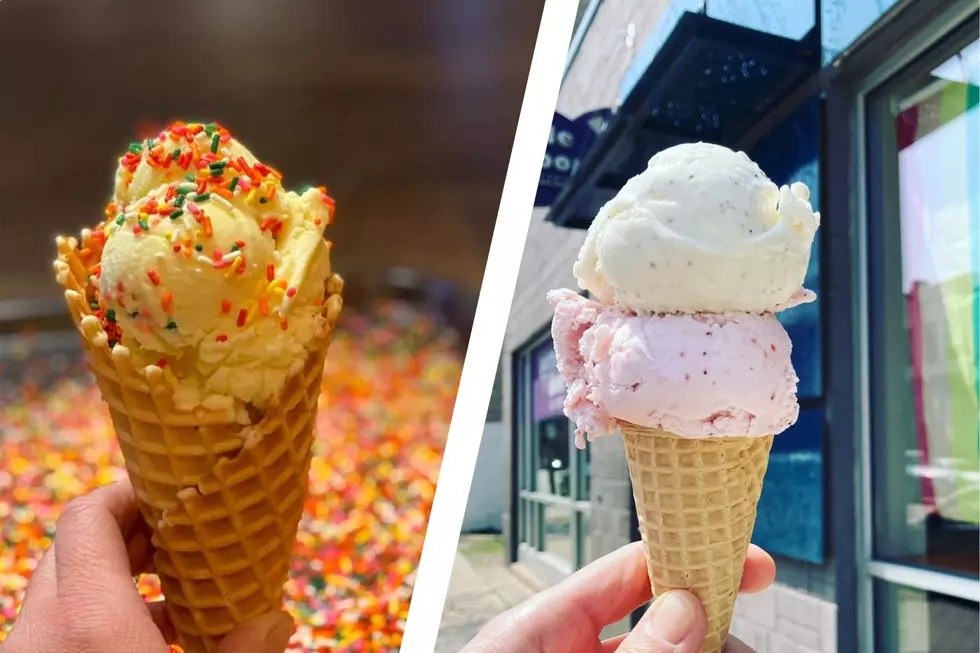 Two of America's Greatest Places for Ice Cream are in Wisconsin
(l. to r.) Kelley Country Creamery via Facebook, Purple Door Ice Cream via Facebook
Ice cream tastes better in the summer.
Road trips are better in the summer too.
If you live near me in the Rockford area, both places are the perfect destination for a summer road cruise.
That's because both of them are considered some of the best for ice cream in America according to 24/7 Tempo.
The first one you'll find in Wisconsin is located in Fond du Lac and it's called Kelley Country Creamery.
24/7 Tempo says:
Among the flavors that can be found are: Amie's Amaretto, Baby Sunny Apple, Black Forest, caramel cookie crunch, and Christmas pudding.
John F. on Yelp says "Literally an ice cream business in the middle of nowhere. But Sooooo worth the trip!" but AJ M. mentioned, "Maybe i've been spoiled, but for being a dairy state, I expected better Wisconsin."
The other ice cream joint on the list is in Milwaukee and this one is called Purple Door Ice Cream.
According to 24/7 Tempo:
Purple Door started solely as a wholesale business, selling ice cream to local grocers and restaurants. They later opened their retail shop in Milwaukee, where they offer flavors such as absinthe, Arnie Palmer, balsamic vinegar, cinnamon graham crackers and milk, Dinner in Belgium, garlic, and Oatmeal Scotchie.
Yelper Jerome P. reviewed Purple Door saying "Great for unique flavors like raspberry jalapeno! I would highly recommend trying to taste as many flavors as possible here -- the staff let you sample a few flavors for free, and you can buy flights and mini flights as well, making for several (reasonably priced) tasting opportunities!" but Carey K. had other thoughts, asking "What's all the hype? Line outside the door. Came here for my daughters birthday dessert. Wow. So expensive and had really weird flavors. Never coming back."
It sounds like Kelley Country Creamery is more of a traditional ice cream spot while Purple Door gives off more of a unique ice cream vibe.
Of the two which would you pick to visit first?
Purple Door is located at 205 South Second Street in Milwaukee while Kelley Country Creamery is at W5215 County Road B F in Fond Du Lac.
7 Foods You Didn't Know Were Official State Foods of Illinois & Wisconsin
Wisconsin and Illinois' official state foods you probably didn't know about.
7 Wisconsin Breweries Every Beer Lover Should Check Out