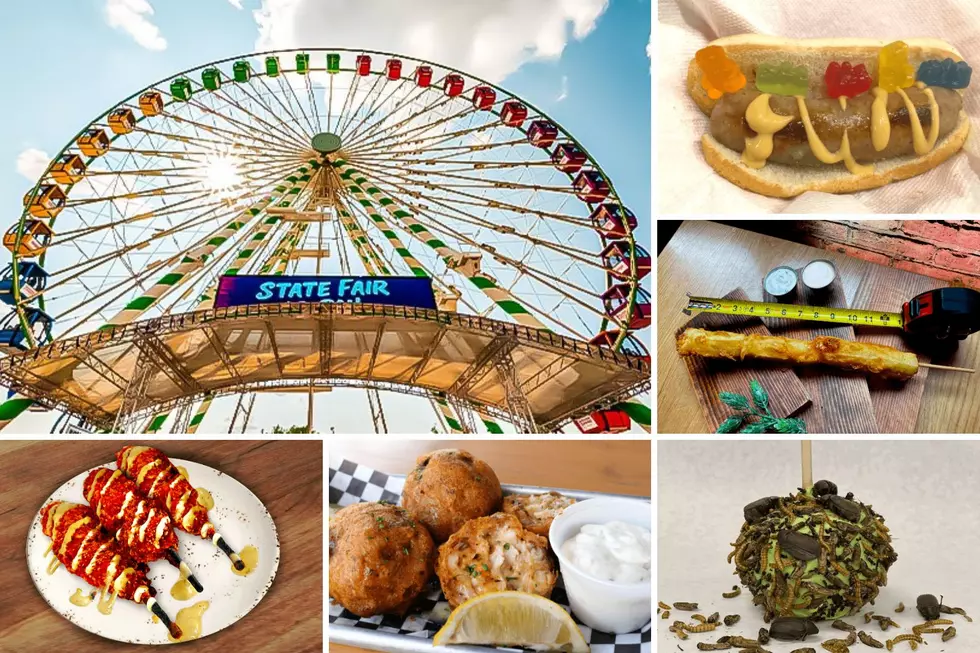 10 Strange and Fabulous Foods You'll Find at This Year's Wisconsin State Fair
wistatefair.com,Wisconsin State Fair Facebook/Canva
The Wisconsin State Fair is just a couple of weeks away and we're hearing there will be 80 new foods to try. Would you try any of these?
New Food at Wisconsin State Fair
This is one of the Milwaukee, Wisconsin headlines I look forward to seeing every year. Right after getting the Summerfest concert schedule, the next great story is what new and crazy foods will be available at the Wisconsin State Fair a month later.
I've never seen a number this big. This year, there will be 80 new food items available.
10 Strange AND Fabulous Foods You'll Find at This year's Wisconsin State Fair
1. Chicago Dog (with a sweet twist)
Just as it sounds (which is fabulous by the way). An all beef hotdog with a Longjohn for the bun. You should know that the dog is wrapped in bacon and then deep-fried before it is served.
2. Footlong Cheese Curd On-s-Stick
This is the WISCONSIN state fair, so this delicious snack shouldn't come as a surprise at all.
3. Arctic Bug Blast Slush
This is a blue raspberry slush, but those toppings aren't chocolate, they're bugs.
4. The Bug Apple On-a-Stick
Fair organizers clearly bought several bags of edible June bugs, crickets, worms, and ants.
5. Fish Fry Bombs
Imagine yourself out on a Friday night at your favorite place for a fish fry. Now imagine that when your plate shows up, all you see are these balls.
It's fried Atlantic cod, coleslaw, and fries all fried up in one bite-size ball. They're served with tartar and a lemon vinaigrette.
6. French Toast Burger
I've only had a burger with a fried egg on it once and I've never wanted another one, until perhaps now. French toast is your 'bun', plus you get the fried egg and it's topped with syrup.
7. Fried Pickle Cheese Curd Taco
I sure do like all of these foods by themselves, I'm not sure how this would be with all these items together in a tortilla.
8. Gummy Bear Brat
This fair snack has been getting the most talk lately. It's a little more than you think. It's not just a brat topped with gummy bear candy, they're infused in the brat as well, and it comes topped with a honey mustard drizzle.
9. Pickle-Flavored Cotton Candy
This pickle-flavored nonsense just went one step too far. I don't have a photo of this food either, just the place where you find it. This would be a great trick to play on your kids though.
10. Flammin' Hot Cheetos Chicken On-a-Stick
You pretty much can't go wrong with something on a stick at a fair, although this one could give you a little heartburn. These are dusted with the Cheetos, plus they drizzle them with chipotle ranch and some other 'top secret' seasoning.
Don't forget to grab the best cream puff you'll ever eat in your life. Wisconsin State Fair cream puffs are legendary.
Click here for ALL 80 new food items, plus exactly where to find them on the fairgrounds.
2022 Wisconsin State Fair Details
Adults (12 & over) $17
Seniors (60 & over) $12
Military and Veterans with ID $12
Youth (ages 6-11) $12
Children (5 & under) FREE
Find all Wisconsin State Fair Details HERE.
Amazing Southern Wisconsin Restaurants Featured on the Food Network
Wouldn't it be the absolute best if tomorrow started with someone saying to you, "you are fantastic on so many levels." How's that sound?