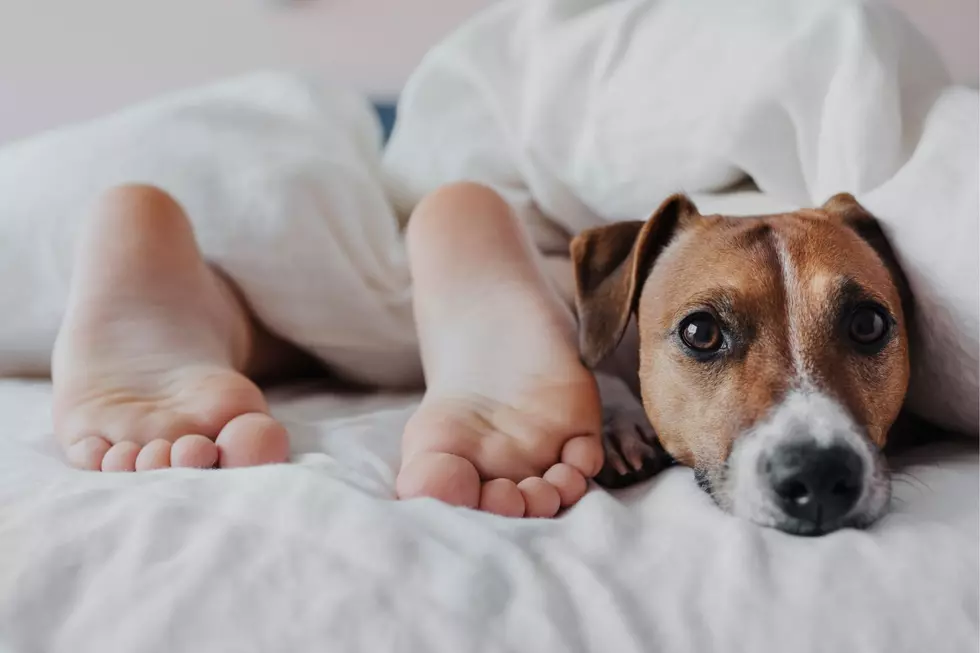 Illinois Dog Lovers, Your Favorite Breeds Also Some of the Worst To Sleep With
Canva
If one of the main reasons you want a dog is to have a furry baby to share your bed with, you may want to see this list before deciding what pup is best for you.
Family companionship and snuggling. Those were the two reasons that topped my family's list of why we wanted a dog. We adopted a mini Texas heeler from Noah's Ark Animal Sanctuary. For small periods of time, Lily is a great cuddler until she jumps up on 'high-alert' for something to herd, sometimes if for no reason other than a leaf blowing past the window. Clearly, she is a horrible dog breed to share the bed with because she doesn't rest for long.
Do You Love To Share Your Bed With Your Dog?
The idea of your pup sharing a snooze with you sounds good but in reality, there are many reasons that some breeds make horrible bedmates. Secret Linen Store shared the biggest reasons some dogs just weren't made for sharing your bed, things like:
Shedding
Drooling
Barking
Energy level
Each of those 4 things was scored between 1 and 5, based on the amounts. The size of the dog obviously played a big role, as that furry behemoth's rollover could disturb your sleep. Secret Linen Store analyzed more than 100 dog breeds to create this list of the Best and Worst Dog Breeds to Share Your Bed With.
The absolute worst dog to share your bed with is:
Bernese Mountain Dog
High energy and extensive shedding are issues, and so is this breed's size, meaning very large amounts of hair all over your bed. Before getting back into the rest of the worst dog breeds to nap with, here's the bad news for Illinois dog lovers.
Three of Illinois' Most Popular Dog Breeds Are The Worst to Share Your Bed With
The most popular dog breed in the state of Illinois is the dog that immediately comes to mind as one of the best family dogs, and they are, but they are terrible bedmates.
Labrador
They don't drool too much and they score pretty low in the barking department, but they shed quite a bit and aren't too big on chilling out in bed with you.
There are two other breeds from Iliinois' Most Popular list that also scored high on Secret Linen Store's list.
German Sheppard
HIGH ENERGY. These protectors scored low with drooling and fairly low with barking, but shedding and energy level are a big concern. My mini Texas heeler gets a few cases of the 'zoomies' every week, which you can also expect from your German Sheppard.
Golden Retriever
There's so much to love about this breed. They're a great family dog, they don't drool, they don't bark, but they do one thing that can really wreck your sleep. Golden Retrievers are occasional snorers", says the study from Secret Linen, and nobody wants to add that to the bedroom if you don't have to. Goldens also shed quite a bit.
The Top 5 Worst Dog Breeds to Share a Bed With
#5
Worst Dog Breeds to Share a Bed With - #4
Worst Dog Breeds to Share a Bed With - #3
Worst Dog Breeds to Share a Bed With - #2
Worst Dog Breeds to Share a Bed With - #1
When you check out Secret Linen's full list of the Best & Worst dog breeds to share your bed with, you'll see that most of the best dogs to have in your bed are purse-sized.
Sometimes, a fur baby loses bed priveledges for things like this:
25 Pics of Illinois Dogs Destroying Our Things While We're Away
These dogs we choose to own, they're so dang cute, right?!
LOOK! 10 Illinois Dogs with No Shame in Their Selfie Game
We asked to see what your dog's profile photo would look if they were on a doggy dating app. We got a ton of cuteness and a few dogs who have zero shame.