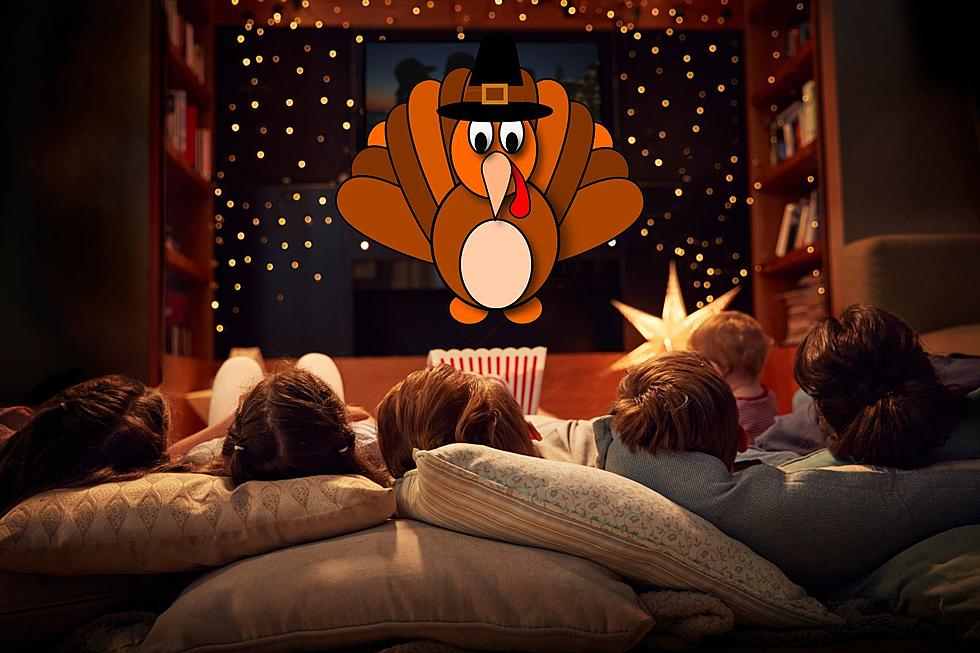 Illinois Peeps Say These are 7 Best Thanksgiving Movies
Canva
When someone says there aren't really any Thanksgiving movies, break out this list. Then grab the remote and a plate of leftovers and hit the couch.
After the first round of Thanksgiving feasting, half of Illinois households will be watching a football game. The other half will be watching movies. But, what is there to watch?
The other day, someone said that there are plenty of TV shows with Thanksgiving episodes, but are there any Thanksgiving movies?
I thought of one Thanksgiving movie immediately, but I really struggled to find more than that one, so I asked 97ZOK's Facebook family to help me out.
Below are the most-often-mentioned Thanksgiving movies, from Rated R to G, that people are looking forward to watching over the holiday weekend.
A Charlie Brown Thanksgiving
The 1973 classic
---
Free Birds (2013)
Pardoned by the president, a lucky turkey (Owen Wilson) named Reggie gets to live a carefree lifestyle until fellow fowl Jake (Woody Harrelson) recruits him for a history-changing mission. Jake and Reggie travel back in time to the year 1621, just before the first Thanksgiving. The plan: Prevent all turkeys from ever becoming holiday dinners. RATED PG
---
Pieces of April (2003)
Quirky and rebellious April Burns (Katie Holmes) lives with her boyfriend in a low-rent New York City apartment miles away from her emotionally distant family. But when she discovers that her mother (Patricia Clarkson) has a fatal form of breast cancer, she invites the clan to her place for Thanksgiving. While her father (Oliver Platt) struggles to drive her family into the city, April -- an inexperienced cook -- runs into kitchen trouble and must ask a neighbor (Sean Hayes) for help. RATED PG-13
---
Friendsgiving (2020)
Molly (Malin Ackerman) and Abbey (Kat Dennings), along with their crew of close friends, host a dysfunctional Thanksgiving dinner. RATED R
---
Home for the Holidays (1995)
When her teenage daughter opts out of Thanksgiving, single mother Claudia Larson (Holly Hunter) travels alone to her childhood home for an explosive holiday dinner with her dysfunctional family. Claudia quickly tires of her parents, her long-suffering sister (Cynthia Stevenson), her snobby brother-in-law (Steve Guttenberg), and her nutty aunt (Geraldine Chaplin). But the evening gets interesting when sparks fly between Claudia and her brother's handsome friend Leo Fish (Dylan McDermott). Directed by Jodie Foster. RATED PG-13
---
Son In Law (1993)
Country girl Rebecca (Carla Gugino) has spent most of her life on a farm in South Dakota, and, when she goes away to college in Los Angeles, Rebecca immediately feels out of place in the daunting urban setting. She is befriended by a savvy party animal named Crawl (Pauly Shore), who convinces the ambivalent Rebecca to stay in the city. When Thanksgiving break rolls around, Rebecca, no longer an innocent farm girl, invites Crawl back to South Dakota, where he pretends to be her fiancé. RATED PG-13
---
Now, the first movie that comes to my mind when anyone says, "Thanksgiving movies."
Planes, Trains and Automobiles (1987)
Easily excitable Neal Page (Steve Martin) is somewhat of a control freak. Trying to get home to Chicago to spend Thanksgiving with his wife (Laila Robins) and kids, his flight is rerouted to a distant city in Kansas because of a freak snowstorm, and his sanity begins to fray. Worse yet, he is forced to bunk up with talkative Del Griffith (John Candy), whom he finds extremely annoying. Together they must overcome the insanity of holiday travel to reach their intended destination. Directed by John Hughes. RATED R
---
Here's an extra movie to consider watching with your family over the Thanksgiving holiday. Let's call this one a "day after Thanksgiving movie."
If your family is into something funny and bloody,
Black Friday (2021)
On Thanksgiving night, a group of disgruntled toy store employees begrudgingly arrive for work to open the store at midnight for the busiest shopping day of the year. Meanwhile, an alien parasite crashes to Earth in a meteor. This group of misfits led by store manager Jonathan (Bruce Campbell) and longtime employee Ken (Devon Sawa) soon find themselves battling against hordes of holiday shoppers who have been turned into monstrous creatures hellbent on a murderous rampage on Black Friday.
Enjoy your plates of leftovers, a good movie, and a long nap.
Happy Thanksgiving.
25 Movies You May Have Not Known Were Filmed in Illinois
Did you know some of these flicks were shot in Illinois?
Gallery Credit: Various