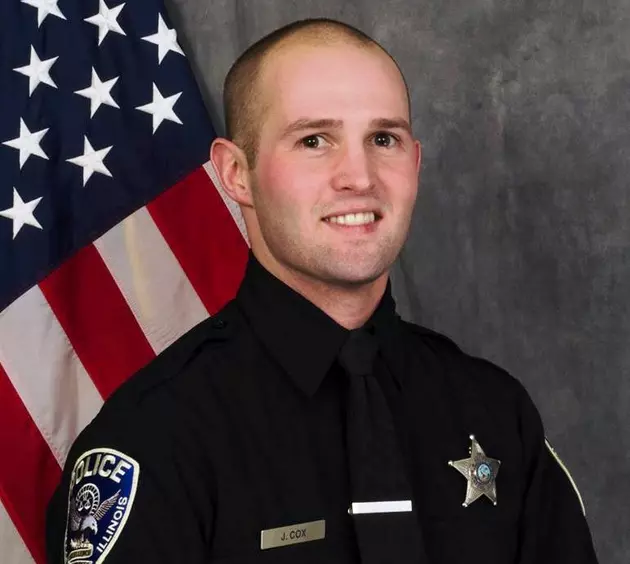 Cousin of Rockford Officer Jaimie Cox Pays Tribute To His Cousin
Rockford Police Dept Photo
"Today I witnessed the utmost tragedy, and it happened to be not only a brother in blue, but my blood."
Rockford woke up to tragic news early on Sunday morning as we learned that Rockford Police Officer Jaimie Cox lost his life during traffic stop in the area of East State Street and Dawn Avenue.
This loss has affected the entire community and the nation, but none are more affected, than those closest to 30-year-old Ofc. Cox.
Adam Jared, Jaimie Cox's cousin, went on Facebook to pay tribute to the man who was not only his brother in blue who stood up at his wedding, but also family.
Today has been the absolute hardest day of my life. I woke up this morning to a phone call.... I had a bad feeling something was going down at work. Within minutes we confirmed that a brother had been shot....

 

...it wasn't long before I learned that Jaimie was indeed gravely injured. I learned that Jaimie volunteered to stay after the completion of his day shift and fill an open spot on afternoon/night shift patrol. The next few hours were a blur. I am still waiting for someone to wake me up. I made the absolute hardest death notifications I will ever make in my life to our family.
He is the most selfless, hardest working, honest, dependable human being I have ever met. I looked up to Jaimie more than I can describe in words. I followed in his foot steps like a shadow. This is the only career I entered before he did, but man I knew Jaimie would succeed in it. Nobody can serve others better than him.
Your can read Adam Jared's complete statement HERE.
Our thoughts and prayers are with Jaimie Cox's family and friends and all the men in women in blue.