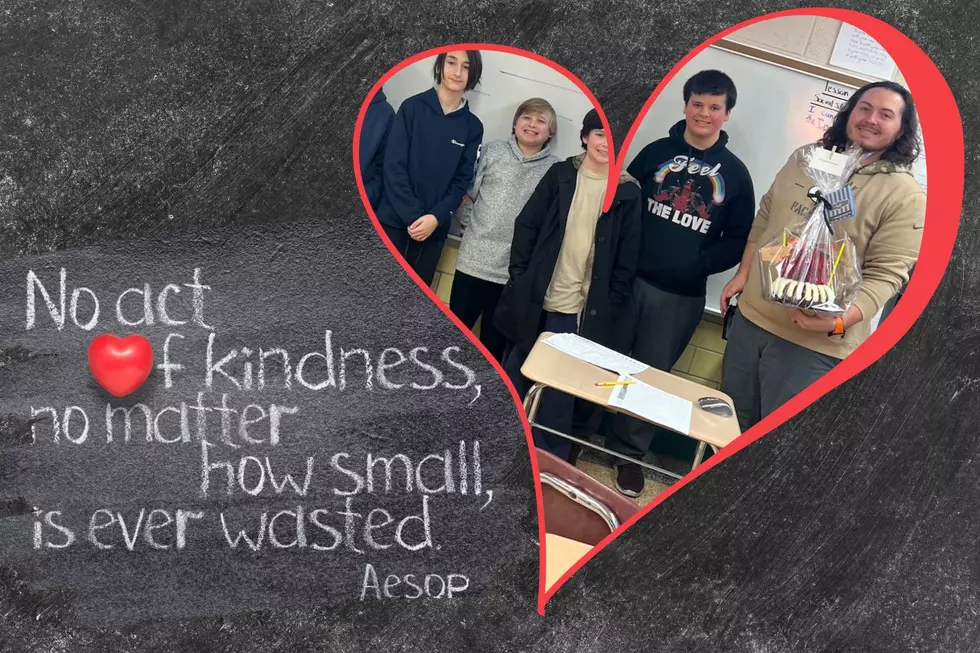 Illinois Teacher Reminds Us All How Important Small Kind Gestures Can Be
Canva
No matter the size of the kind gesture, the act itself is a sign of love and compassion. Imagine the impact it has on someone who seldom feels that kind of goodness.
Every week, we get the joy of reading about the MANY things teachers are doing behind the scenes, to make sure their students feel loved and cared for. We then get the pleasure of sharing some of them with you.
Congratulations to 97ZOK's new Teacher of the Week
Alex Lawrence from Harlem Middle School in Loves Park, Illinois
Alex was nominated by his wife Rachel, who shares a story of something that happened this Christmas season while shopping with her husband that filled her heart.
I would like to nominate my husband Alex Lawrence for teacher of the week, and NOT just because he's my husband :) Alex has been a special education teacher since 2016. He currently works in what's called the "Learning Lab" at Harlem Middle School. It is a program dedicated to students who need more social, emotional, and educational support.

Alex is SO passionate about his job and about each and every single one of his students. He is constantly looking for ways to better their education and their learning experience. A lot of his kids come from environments that aren't ideal. Their home lives aren't the best. Alex makes it a point to make his classroom a place where his students can feel safe, heard, and seen.

Most recently, Alex was telling me how one of his students has a really hard time around the holidays and that he never really got to enjoy Christmas like other kids do. We were at the store one day, and Alex said "I'm going to get my student a few of these matchbox cars. He never really gets gifts for Christmas and he recently told me he loves toy cars. I just want him to know that someone is thinking about him during the holidays and I want him to have just a little something. I wish I could do more." I literally teared up. This small, kind act made this student's day, and it's because of Alex and just the compassion he has for his students.

Alex really takes the time to listen to his students and make them feel heard. He builds a rapport with each and every single kid he comes into contact with and because of that, they trust him and know they can go to him for anything. Some kids will come in and just vent about issues they're having at home, and Alex makes it a point to give them his full attention. Sometimes, all these students need is to feel heard. Alex will then give them advice on the situation at hand and he has really helped a lot of kids out with personal issues they were struggling with. He gives them advice and ideas on coping skills for how to handle situations in the future. A lot of these kids view Alex as a father figure, and I'm so grateful these kids have such a great man and role model to look up to.

I had the privilege of working alongside Alex as a paraprofessional, and I have seen how much influence he has over his students. He has such a positive impact on them, it's unreal.

I truly hope Alex can have the honor of being Teacher of the Week. He is the most compassionate man and teacher, and Harlem Middle School is so blessed to have him. Alex always feels like he can never do enough,  and he's always looking for ways to do more, and I want him to see that what he does on a daily basis is changing lives. Myself, his coworkers, his administration, we all see it. Now let's get him to see it :) He is the most dedicated, hardworking, COMPASSIONATE human and no one deserves this more.
As Teacher of the Week, Alex was surprised with a cake from Nothing Bundt Cakes and money to spend at WM Day Spa.
Click HERE to nominate your favorite teacher.
20 Unofficial Food Rules People of Illinois Agree On
One of these food rules was broken recently on The Steve Shannon Show. It was a big one. We quickly realized it is one of many 'unofficial' rules.