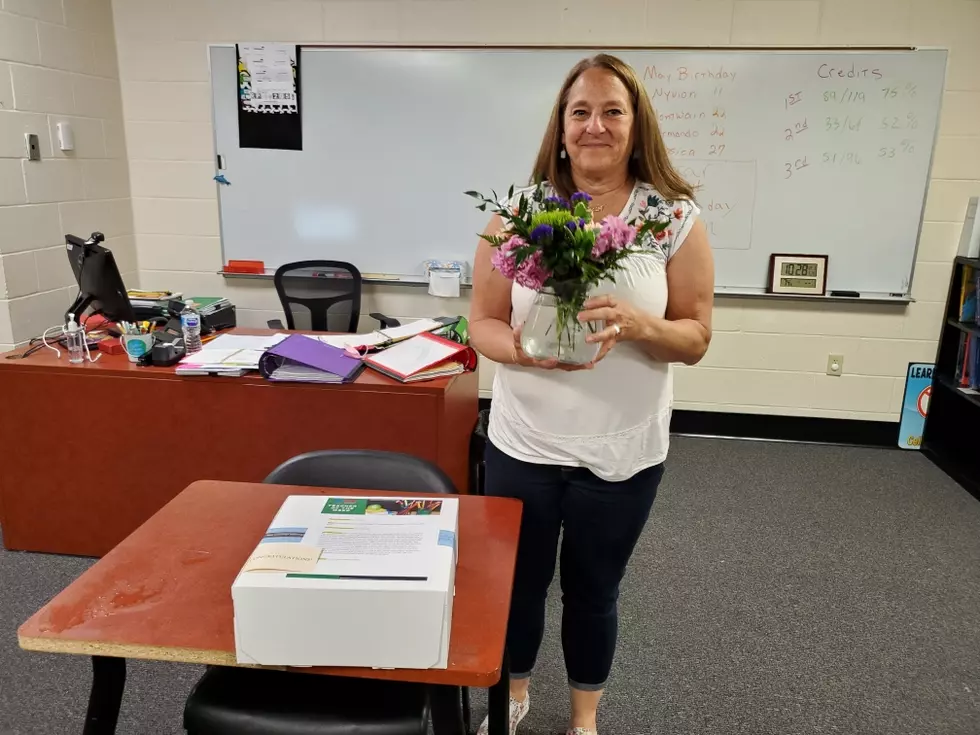 Teacher of the Week Won't Let Any Student Fall Through the Cracks
TSM
Congratulations to our last 'Teacher Of The Week' for the 2020/2021 school year, Ms. Lazzerini from Rockford Innovative Learning Center.
For the last decade, Rockford's Innovative Learning Center has been working with students who are behind in credits. For a variety of reasons, these young people have found themselves in a situation where the possibility of graduating is slipping away.
Teachers like Ms. Lazzerini work very closely with these students to ensure the opportunity to graduate on time doesn't disappear.
Ms. Lazzerini was nominated by one of her biggest admirers, her daughter Dana. She writes,
"She is not MY teacher, but she is my mom and I work at the same school as her.  We work at an alternative high school in Rockford that helps RPS 205 students get back on track with their credits in hopes of graduating with their class on time.  She has worked here almost since the start, almost 10 years!  She deals with a lot of students who have fallen behind with their studies for one reason or another.  In the 10 years of being at ILC, she has gotten the most credits and graduated the most students, often times with little to no recognition.  Not only because I am her daughter, but a co-worker, I can definitely see the passion that she has in getting to know her students and helping them find the right way for them to learn.  Many students return to ILC to say hi and fill her in on what they are doing now or keep in contact with her somehow (one student is in the military, one is a hairdresser and owns her own chair at a studio, one even graduated as a junior and is now at RVC..just to name a few). ILC has many at risk youth and Ms. Lazzerini looks past that to really get to know her students and their parents so that the student could have a better life after graduation!"
It is my absolute privilege to honor Ms. Lazzerini as a high school graduate who owes a lot to my own version of 'Ms. Lazzerini' years ago. We also got to deliver a delicious bundt cake from Nothing Bundt Cakes and a beautiful floral arrangement from Broadway Florist.
Ten Most Popular Celebrities Born in Rockford
All of these celebs were born in Rockford.
Steve Shannon is host of The Steve Shannon Show on 97ZOK. On the air weekday mornings from 6 to 10 a.m. and a special 'Rewind' show, featuring favorite moments from previous shows, on Saturday mornings from 5 to 7 a.m.. Follow him on Twitter, Instagram, and like his page on Facebook.