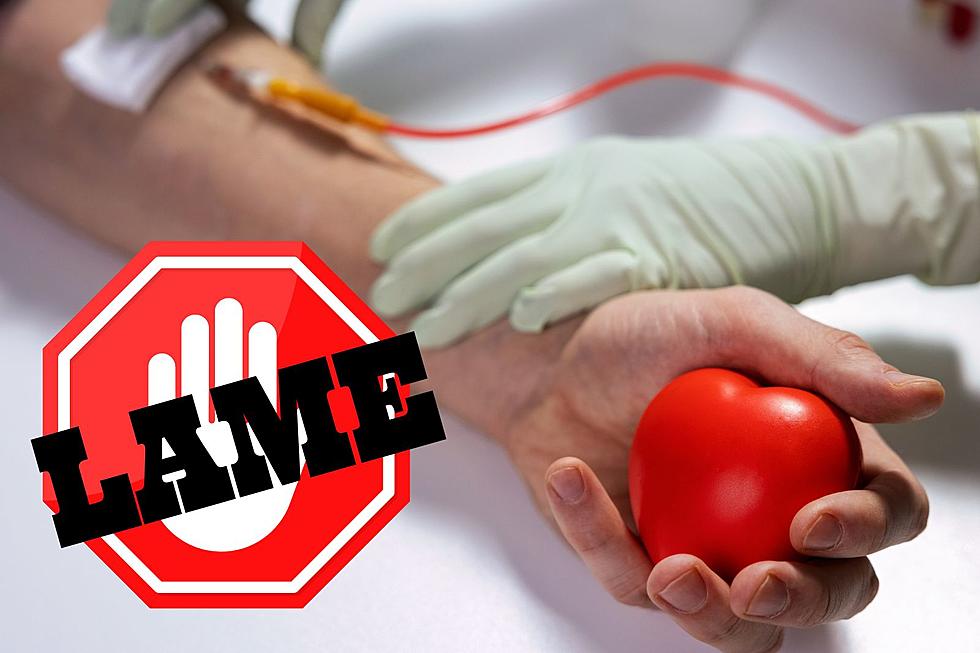 7 Lamest Excuses Illinois Blood Center Has Heard for Not Being a Donor
Canva
People will say anything to avoid donating blood. Some excuses make sense − that's not these. This Illinois blood center has heard them all.
Illinois Blood Donors
The first time I donated blood I didn't know much about how life-saving it could be for someone else, I just wanted to know my blood type. Donating blood seemed like the best way to get what I needed, I was pretty unaware of how much my blood might be needed by someone else.
That was all it took for me. When I donated that blood to the Rock River Valley Blood Center was when I learned to my one blood donation could save up to 3 lives. Three people who love, and are loved, could potentially stay on this planet a little longer because one day I woke up and wanted to know my blood type.
That's that often-mentioned ripple effect that can build into a tidal wave of goodness. If you want to change the world by adding a little more love to it, reconsider becoming a blood donor. If you don't change your mind, don't use these excuses to get out of donating, they don't work.
7 Lame Excuses for Not Donating Blood
1. "Others are donating enough"
That couldn't be any further from the truth
2. "My blood type isn't very popular, there isn't much demand for it."
FALSE. All blood types are needed.
3. At a blood drive, a guy walks by with arms filled with tattoos, he stops to check out all the activity and when asked if he'd like to donate blood, he says,
"I'm afraid of needles."
Dude! For real?!?!
4. "I'm sorry, I don't have any extra blood."
Your body is manufacturing blood all the time. No need to worry.
5. "I'm too busy."
This one is frustrating. To this day, I still laugh about the conversation I had with someone at a blood drive in a shopping mall. He spent 10 minutes looking at our table of prizes you could win, then another 20 minutes talking to me about the prizes and that he would be a blood donor if he wasn't so busy. He then waited another 10 minutes for his wife to come out of a nearby store. Another 5 minutes and he would've done donating blood and eating some of our free post-donation snacks.
6. "I'll feel too weak and might pass out."
We got you. Right after you donate, you get 15 minutes of free snack eating to make sure you're all good.
7. "I had a cold."
You won't give someone a cold by donating blood
If you want to be done with excuses and give this blood donation thing a try, start by connecting with the Rock River Valley Blood Center on Facebook and their website at rrvbc.org.
Outrageous Burgers & Bloody Marys at This Wisconsin Pub and Grill
If a tasty burger and a giant Bloody Mary sound like a perfect meal, this popular Wisconsin pub and grill is a bit of Heaven on Earth. You better bring friends!