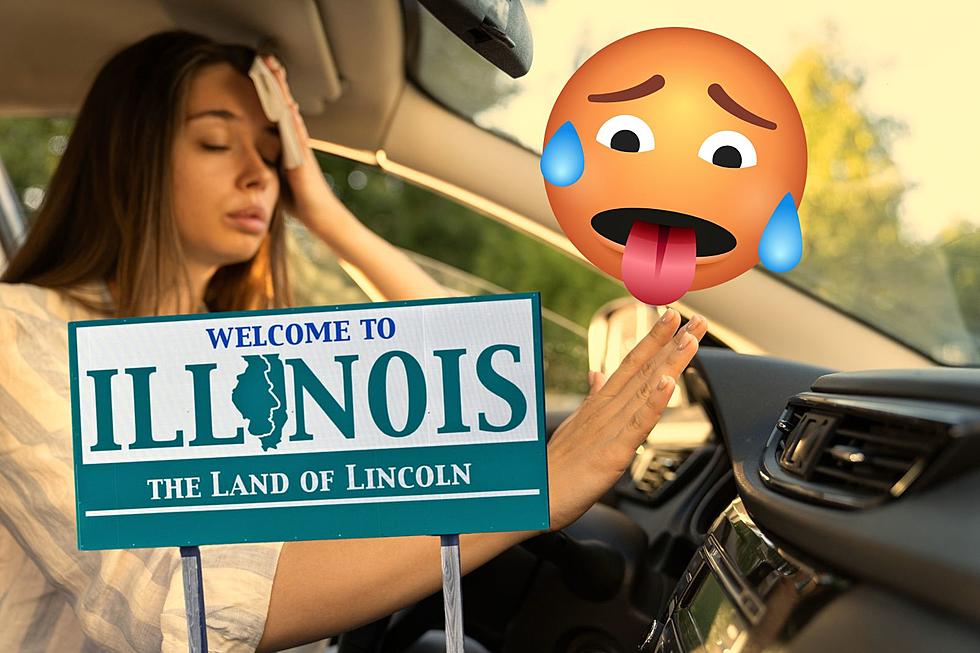 Don't Forget, It's Illegal To Cool Off Your Car In Illinois
Canva
Mother Nature is bringing the heat this week and we don't expect it to cool off anytime soon. That means every time you get into your car, you'll be feeling like you're getting into a sauna but 10x hotter. Watch out for those hot seat belts.
To make your car more comfortable before getting in and driving, you may be tempted to cool off your car to a better temperature if your air conditioning is running well. But if you decide to cool your car off with the key in the ignition and walk away, Illinois police could give you a hefty fine.
As tempting as it is, unless you have an automatic start or plan to sit in the car while it's running, do not cool off your car in the state of Illinois.
It's Illegal To Cool Off Your Car In Illinois
When we talk about making your car comfortable during the year, we normally think about the winter months to warm up your car. But in the summer when temperatures reach into the 90s and humidity is high, it's tempting to cool off your car too.
If you cool off your car and get caught by police in Illinois, you could get a ticket. Back in 2017, Illinois lawmakers passed this law making it illegal for people to essentially 'cool off' their cars:
According to the Illinois General Assembly:
(625 ILCS 5/11-1401) (from Ch. 95 1/2, par. 11-1401)
    Sec. 11-1401. Unattended motor vehicles. Except for a law enforcement officer or an operator of an authorized emergency vehicle performing his or her official duties, no person driving or in charge of a motor vehicle shall permit it to stand unattended without first stopping the engine, locking the ignition, removing the key from the ignition, effectively setting the brake thereon and, when standing upon any perceptible grade, turning the front wheels to the curb or side of the highway. An unattended motor vehicle shall not include an unattended locked motor vehicle with the engine running after being started by a remote starter system.
Essentially, you can't cool off your car or let it idle without someone in the driver's seat unless you are a police officer, an authorized emergency vehicle, or have an automatic start system installed in your vehicle.
Cold Tickets For A Cool Car In Illinois
When it comes to getting caught cooling off your car in Illinois, there isn't an exact dollar amount for a fine. Some articles we found said upwards of $100, some said $125, and others say $250.
But the most important reminder for everyone in the Quad Cities is that the ultimate fine anyone could face on either side of the Quad Cities when they leave their car unattended is theft.
Crime Goes Up When It's Warmer Outside
Unfortunately, that's not a myth. People get their cars stolen in the Quad Cities what feels like every day. Summer or winter.
In 2020, because of the rising numbers of car thefts throughout the Quad Cities, over 20 law enforcement agencies, including the Illinois State Police, Iowa State Patrol, and the Davenport, Bettendorf, Moline, Rock Island, and East Moline Police Departments have started the #LockItDownQC campaign.
According to the official Lock It Down QC website,
The mission of Lock It Down QC is to prevent auto theft in the Quad City Area. Lock It Down QC is a cooperative effort of Iowa and Illinois Quad City Area law enforcement agencies.
On the Lock It Down QC website, officials outline three key actions Quad City citizens can take to prevent car theft including:
Never leave your car running, even if you have your fob.
Always lock your car.
Never leave your keys in your car.
You can find more information and tips about #LockItDownQC here.
These Are The Top 10 "Trashiest" Towns In Illinois
RoadSnacks.com ranked the top 10 "trashiest" towns in Illinois based on government data.
World's Largest Arcade is in Illinois
This place is the largest arcade in the USA, with over 885+ games to play, and it's not like any arcade you've been to before.