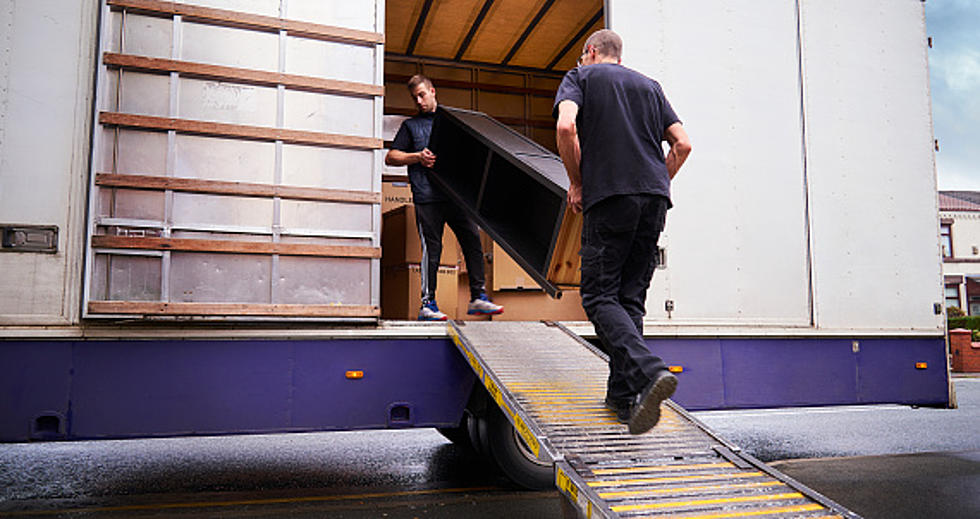 Moving Out Of Rockford? BBB Warns Of Moving Company Scams
Getty Images
Having lived in this area for all but 6 months of my life, I don't have any experiences, good or bad, with moving companies. However, since we do live in a state that's leading the nation in people leaving, I'll bet that someone reading this has a story to tell.
As a matter of fact, looking over an email I just received from Dennis Horton, Director of the Rockford Regional Office of the Better Business Bureau (BBB), I can see where there are plenty of horror stories out there regarding moving a household from one place to another, regardless of the length of the trip.
For whatever reason, May is the top month for moving, both here in Rockford and throughout the nation. So, the Better Business Bureau decided to look into the many complaints they receive about movers at this time of year.
The BBB receives an average of 13,000 complaints and negative reviews about movers each year, and many of those complaints describe how homeowner's experiences with dishonest moving companies have turned into financial and emotional nightmares.
Some of the complaints have involved moving companies giving an estimate to a homeowner, only to then raise the estimate substantially once the homeowner's possessions were in the hands of the moving company. The homeowner then faced the prospect of having to pay the extra charges to get their belongings back.
Another way of getting more from you than they should, according to the BBB, is when a moving company "will add on additional charges based on unfounded reasons, such as giving you an estimate based on weight, but after your valuables are on their truck, they charge you extra, claiming the cubic feet have exceeded the weight estimate." Since this is impossible to calculate, you're stuck paying the fees or giving up your goods.
One of the worst ways of being scammed is when you've paid up-front for your move, and the truck packs up and leaves your driveway, supposedly on the way to your new home. Only in this case, the minute they leave your house with their truck full of your stuff, they close their business, too. Then, they have both your money and your stuff, which is sometimes tossed into a storage facility to be sold off later.
There's lots of information out there on what to look out for when it comes to moving and moving companies. Unless you're a moving veteran and have lots of experience in this topic, make sure you completely check out any company that you're considering using in an upcoming move. The BBB keeps an up-to-date file on who's doing it right, and who'll end up doing you wrong.
LOOK: Here are the 50 best beach towns in America
Every beach town has its share of pluses and minuses, which got us thinking about what makes a beach town the best one to live in. To find out,
Stacker
consulted
data from WalletHub
, released June 17, 2020, that compares U.S. beach towns. Ratings are based on six categories: affordability, weather, safety, economy, education and health, and quality of life. The cities ranged in population from 10,000 to 150,000, but they had to have at least one local beach listed on TripAdvisor. Read the
full methodology here
. From those rankings, we selected the top 50. Readers who live in California and Florida will be unsurprised to learn that many of towns featured here are in one of those two states.
Keep reading to see if your favorite beach town made the cut.