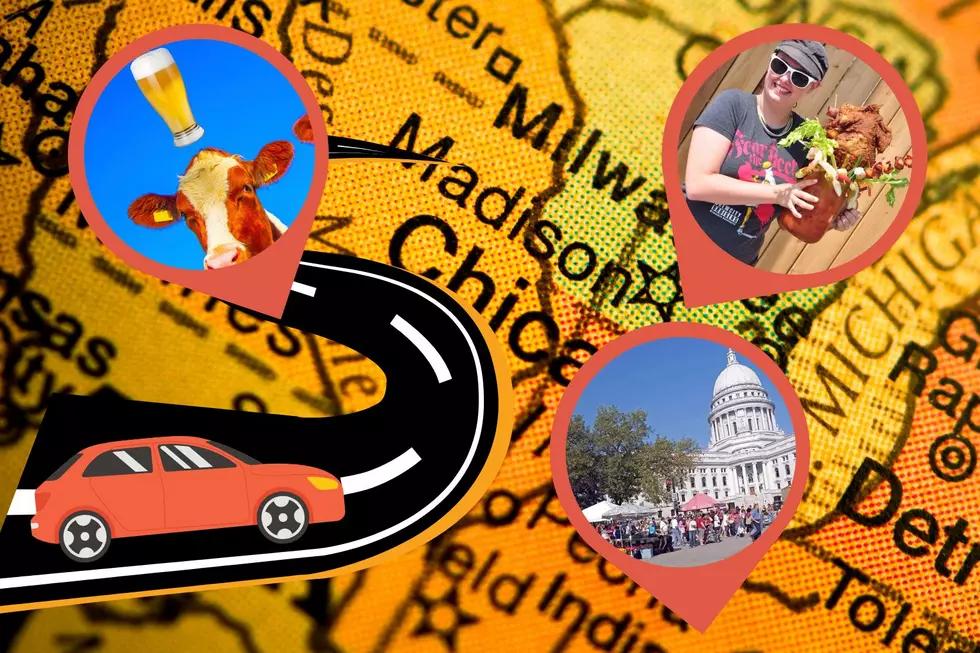 5 Things Even Illinois People Want to Take the Trek to Wisconsin to Do
Sobelmans Facebook/Dane County Farmer's Market Facebook/Canva
One of the many appealing parts of Northern Illinois is how easy it is to road trip to Wisconsin. Here are 5 great destinations you must add to your list.
I really do get the best of both worlds living in Northern Illinois and growing up in Wisconsin. I'm always close to some of my favorite destinations.
My wife and I were looking at open spots on the calendar for some day trips to take, some with our children and some without.
1. New Glarus Brewing Co in New Glarus, Wisconsin
I'll start with the trip that never includes the kids because it's all about us getting some of the most delicious beer in the Midwest. Spotted Cow, it's Wisconsin's most popular beer and 100% unavailable in Illinois. While you could really go to any place that sells beer in Wisconsin, at least once a year, you have to head to where it's made.
5 Things You Probably Didn't Know About Wisconsin's Famous Spotted Cow Beer
We wind up at this next destination a few times during the spring and summer and it is many levels of good Wisconsin vibes.
2. Lake Geneva
Condé Nast Traveler calls Lake Geneva one of the most beautiful towns in America and they're 100% right. With or without your kids, this town is perfect.
If you're a craft beer lover, the Geneva Tap House is a must. They just installed a self-serve beer wall with 50 taps, it is the largest tap wall in Wisconsin.
Plan some time for a great walk on this unbelievable lakeshore path.
3. The Waterpark Capital of the World - Wisconsin Dells
You could make this next trip without your kids, but they better not find out about it, they will be mad. Best to just make two trips.
An adults-only portion of one of the biggest indoor waterparks in the world has a few water attractions for just grown folks and it includes a swim-up bar that features 42-ounce margaritas.
When it's time for the trip with the kids, see if they have the courage to get on this new ride at Mt. Olympus, it's part waterslide and part ferris wheel. I can't wait for my children to fill me in as sit at the bottom with our youngest who might still be a big chicken like me.
As I mentioned earlier, I grew up in Madison, Wisconsin. I've spent many Saturdays on the Capitol Square finding anything and everything at one of the best (and busiest) markets in the Midwest. Open Saturdays from 6:15 a.m. to 1:45 p.m and Wednesdays from 8:30 a.m. to 1:45 p.m.
Here's a recently acquired pro-tip: These are the cheese curds everyone has been talking about this year and you can only get them at one of about 15 different farmer's markets, including the Dane County Famer's Market.
This last suggestion is for glutenous eating and drinking.
5. Sobelmans Pub & Grill in Milwaukee
If a tasty burger and a giant Bloody Mary sound like a perfect meal, this popular pub and grill is a bit of Heaven on Earth. You should probably bring friends, the burgers are giant just like the Bloody Marys.
https://97zokonline.com/outstanding-burger-and-bloody-mary-menu-at-this-wisconsin-pub-and-grill/
Gigantic Custom Barn Most Amazing Multi-Family Wisconsin Getaway Rental
This 7,400 sq. ft. barn near Lake Geneva couldn't be more perfect for that dream 'in the woods' vacation with a bunch of your favorite people.
Amazing Southern Wisconsin Restaurants Featured on the Food Network
Wouldn't it be the absolute best if tomorrow started with someone saying to you, "you are fantastic on so many levels." How's that sound?
25 Places You Need to See Next Time You're In Wisconsin
Rent This Huge Wisconsin Barn Home with Indoor Slide and Beach Room
Who's up for a big vacation with a bunch of friends? In the sun, on the lake, and even on the indoor beach in this huge Wisconsin barn.